I am lucky AGAIN to be participating in the Fab Furniture Flippin' Contest this month!  In this contest, bloggers select a piece of furniture to upcycle with a product supplied by that month's sponsor.  May's contest theme is Bling! Bling! and is sponsored by Country Chic Paints.  Country Chic specializes in furniture paint that is eco friendly and contains no harmful solvents.  This is a sponsored post which means that as a participant in this contest, I received free product.  Each participant in the contest selected one jar of paint, one jar of metallic cream paint, and a brush of their choice at no cost to us.  There was a selection of 28 paint colors plus some limited edition colors and 4 metallic cream paints.  It is always so very difficult to select paint colors.  Sometimes I go with a neutral, like a white, beige or black.  Sometimes a loud punchy color catches my eye.  But my heart always gravitates to the blues and this month my heart won.  I selected Midnight Sky All-in-One Decor Paint and Pocket Watch Metallic Accent Cream.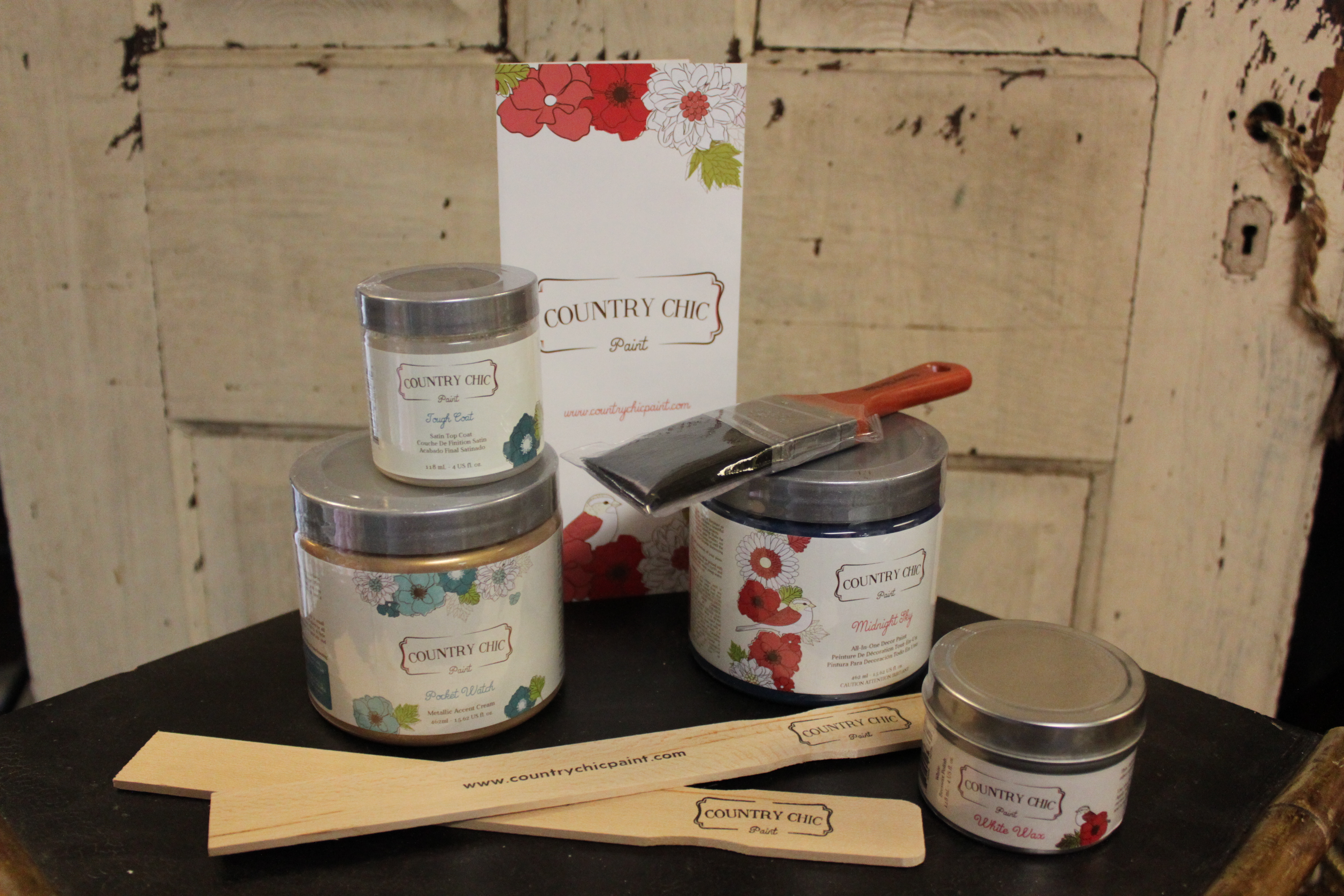 I had recently picked up this chest of drawers from one of my Blue Building vendors.  I grab these whenever possible because they are timeless and easy to upcycle.  It is a solid chest made of a beautiful wood that can be sanded, painted, or stripped with ease.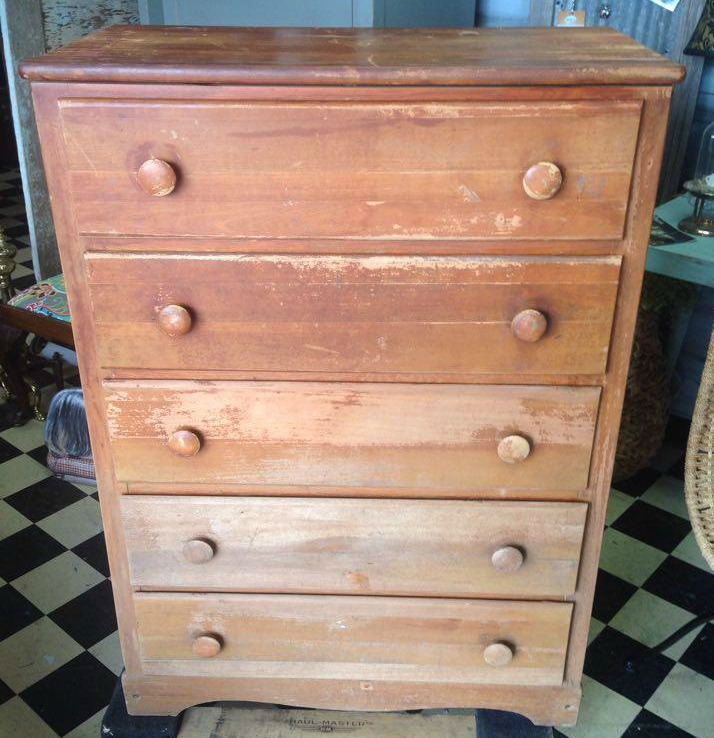 I envisioned the beautifully vibrant blue chest as a centerpiece in a room.  My bling would be vertical stripes added from top to bottom and glittery knobs to tie in the theme.  As with most of my projects, I don't lock into any one plan of attack as these projects tend to take a turn mid stream.  This project was no different.  I lightly sanded one drawer and applied a first coat of blue.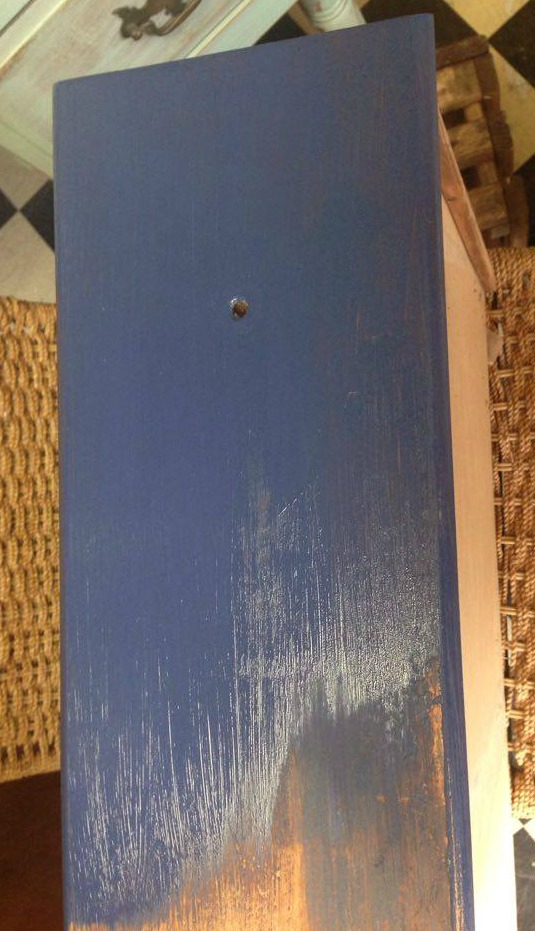 Apparently, I hadn't sanded very well as some of the existing varnish or shellac was visible under the paint.  I grabbed the sander and it happened again…a beautifully unique pattern emerged prompting the inner uber distresser in me to go into protect mode.  This piece was taking a different path.  I was compelled to continue with this distressed look…you just can't simply turn off the alarm when you are an uber distresser.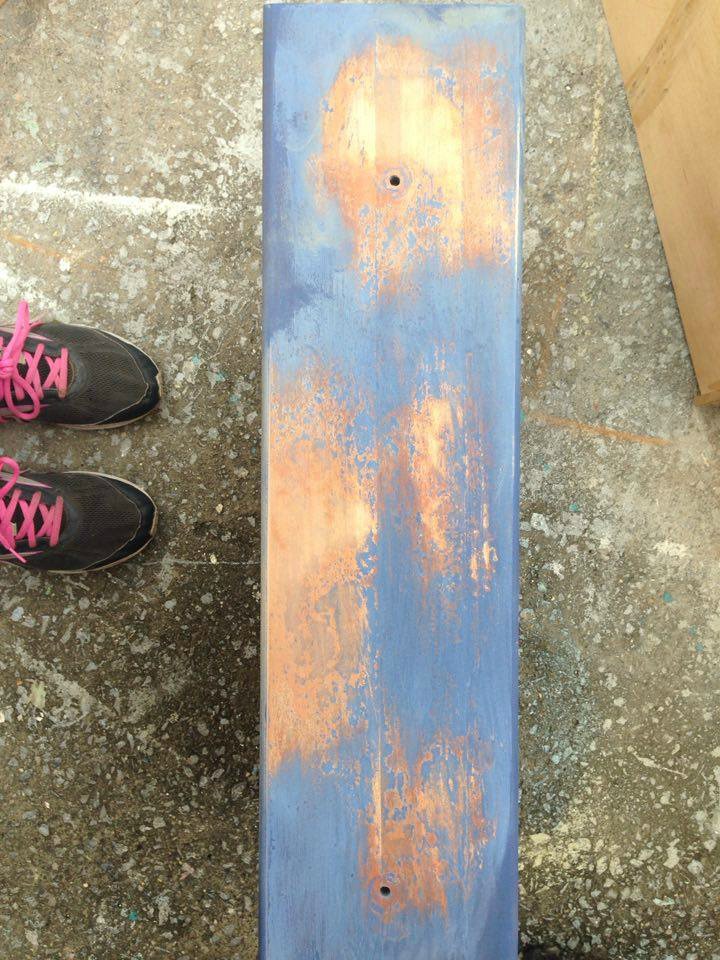 Look at that patina!  Right???  I just couldn't paint over that!
Now I had to decide whether to  1)attempt to tie this destined to be distressed chest into a bling bling masterpiece or 2) select another furniture piece for this project.  I was having a hard time detouring from my initial elegant bling theme.  I couldn't visualize the bling coupled with the uber distressing so I selected another piece…a Mid Century Modern (MCM) vintage record cabinet.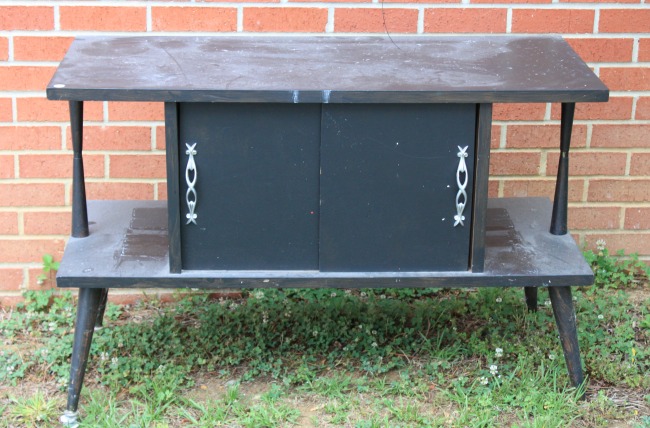 This would make a perfect flats screen console in a contemporary room!  I would continue with the same color scheme as I still had plenty of blue paint.
I lightly sanded the MCM console as it had previously been sprayed black.  A light sanding prepared the surface for my Country Chic Paint.  CCP went on like a dream.
Here she is after one coat.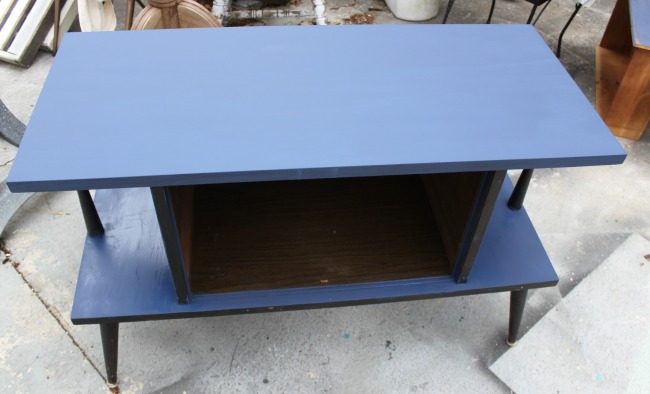 It's a thicker paint than I am accustomed to but it went on "like butta" baby!  Two coats were necessary as one coat just didn't cover completely, which is normal with most paints.
The next step was to apply the gold metallic accent cream.  I decided to highlight the straight lines of the piece and the beautiful legs.  The legs had brass tips but I extended them slightly with the gold paint for dramatic effect.  Because the metallic cream is very thick and more of a highlighting agent, I selected a yellow base paint to apply under the cream.  I applied two coats to the edges of the console.  The yellow was a little too bright so I switched to a more tan paint.  Then I applied the metallic cream.  I was starting to see my BLING!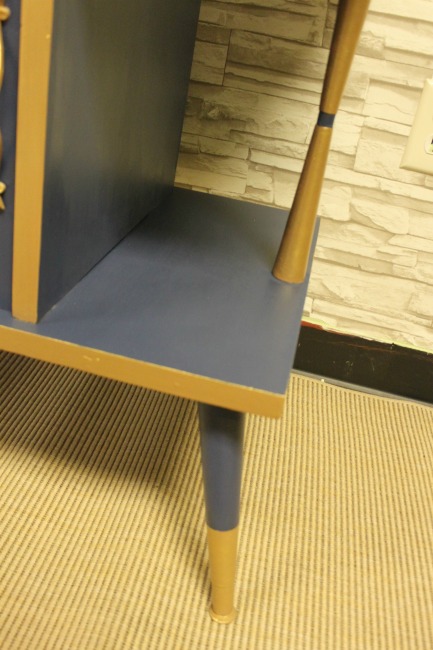 I painted the two sliding doors and repeated the metallic cream process with the handles.
I absolutely love the brushed metal effect obtained with the gold metallic cream.  I can see this being useful for so many future projects!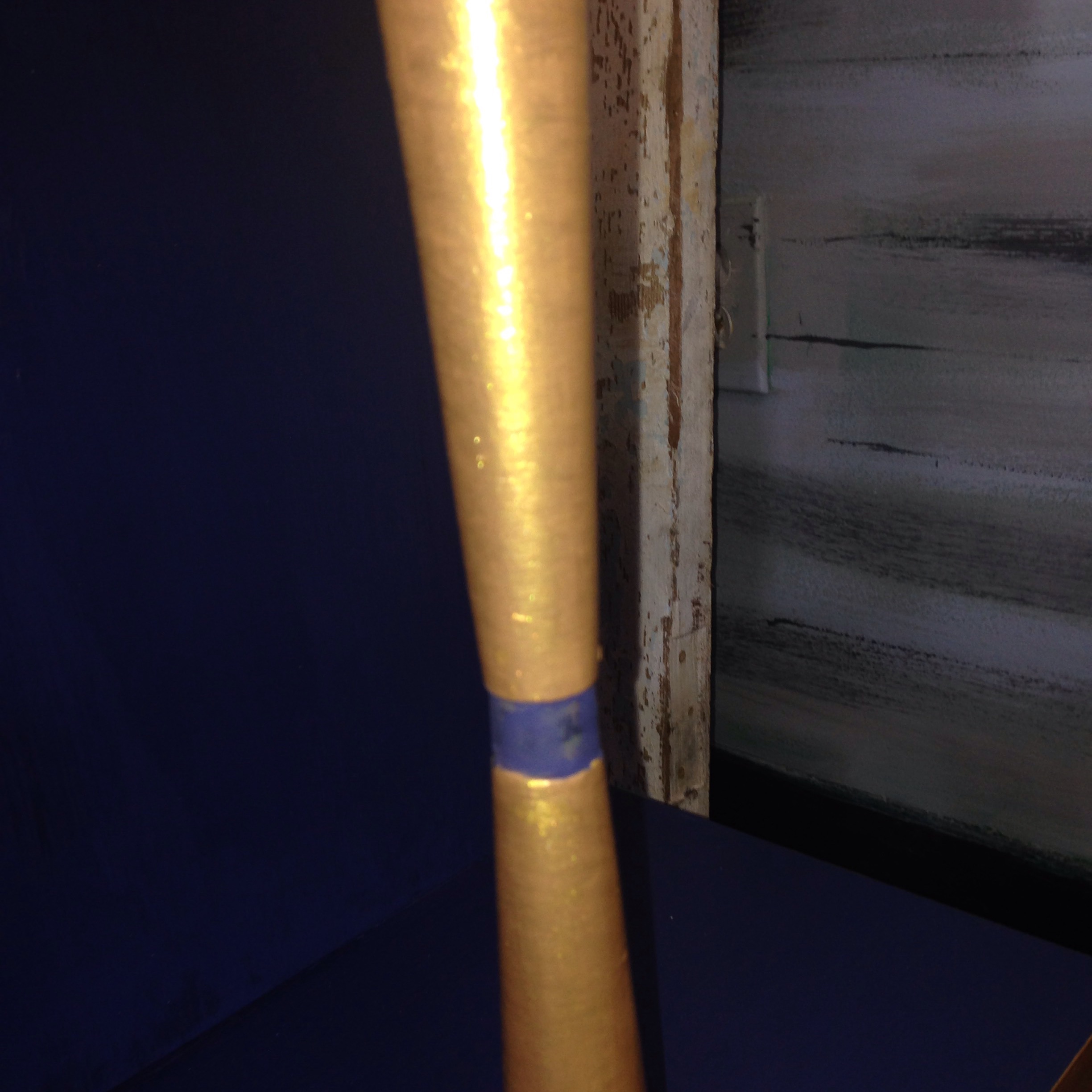 And here she is…all blinged out!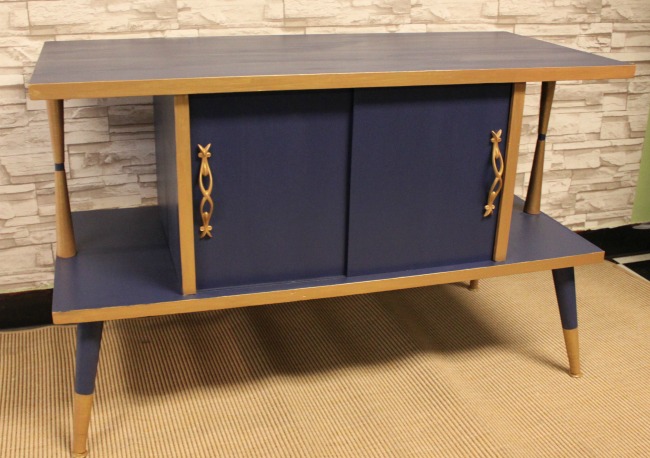 And dressed to impress!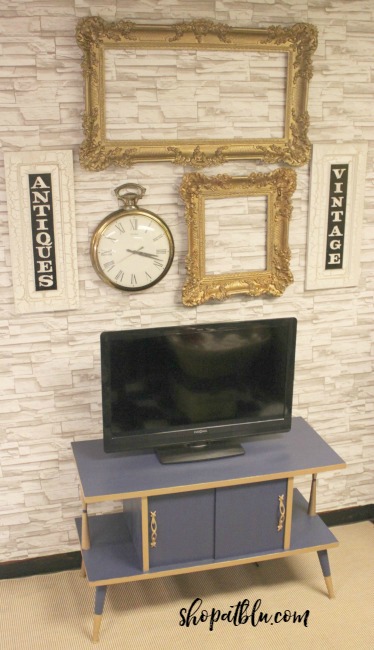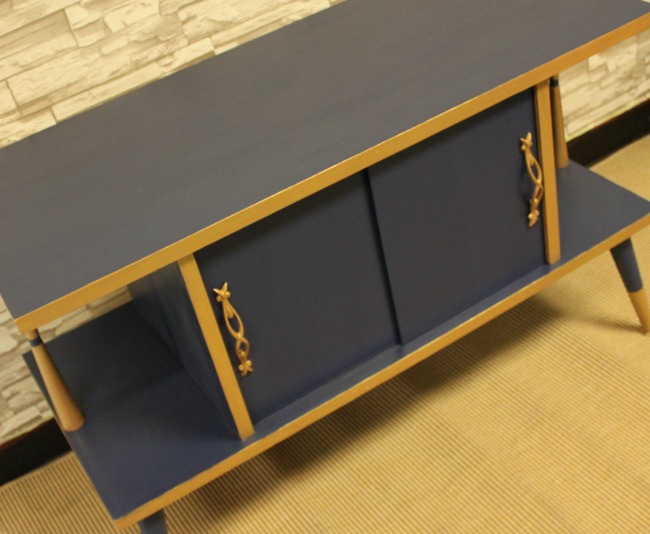 Throughout this project I kept thinking of my unfinished soon to be uber distressed Midnight Sky chest.  In today's design world, styles and genres mix, overlap and blend.  So who is to say that my shabby uber distressed piece couldn't be blinged out???
I decided to finished the chest with more of a blue wash because I was getting low on paint.  I dipped the brush in the Midnight Sky and then into some water.  This resulted in a lighter thinner coat and made the paint go alot farther.  Since I was sanding and distressing, I didn't need a solid coat.
I sanded the entire piece so that some of the wood was exposed.  My bling would be a stencil!  I applied the tan base coat and finished with the Gold Pocket Watch metallic cream.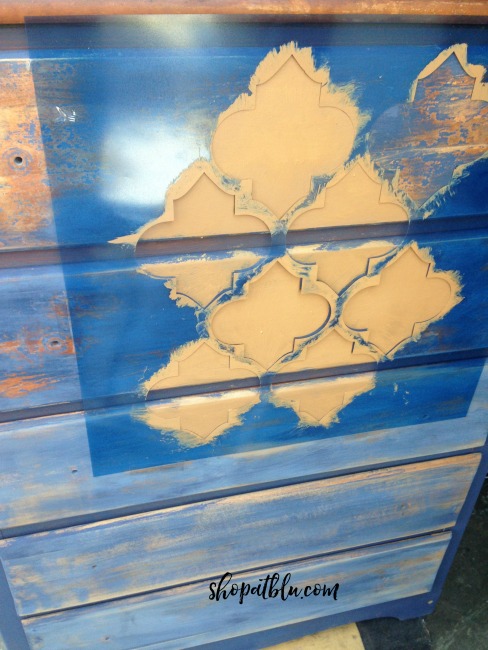 And I must say I am very please with the final product!  I got my uber shabby chest with some incredible Bling!  I love the shimmer of the metallic cream!  So easy to use!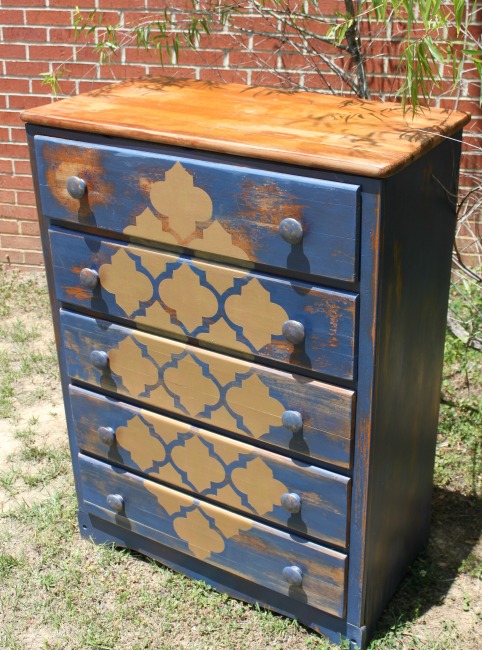 The more I look at it, the more I love the eclectic mix of distressing and bling on  this piece.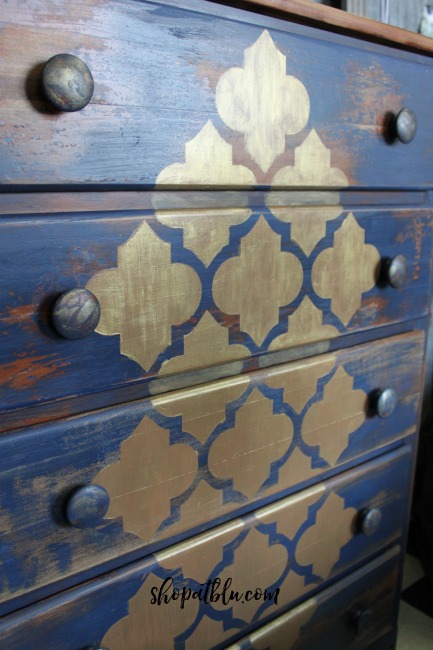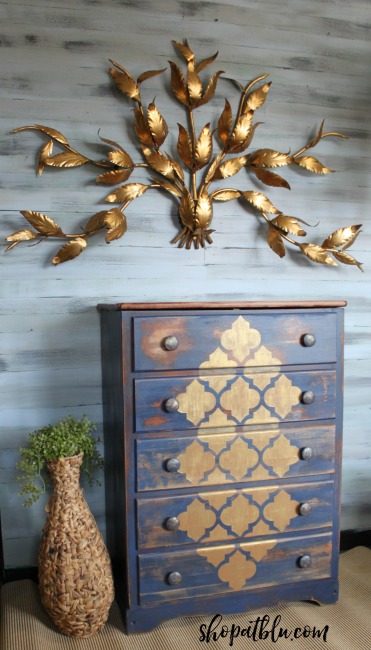 Thank you to the Fab Furniture Flippin' Contest for challenging us each month to do something out of the ordinary and a little different.  I am especially grateful to our wonderful sponsors for proving such incredible products for us to use in our creations!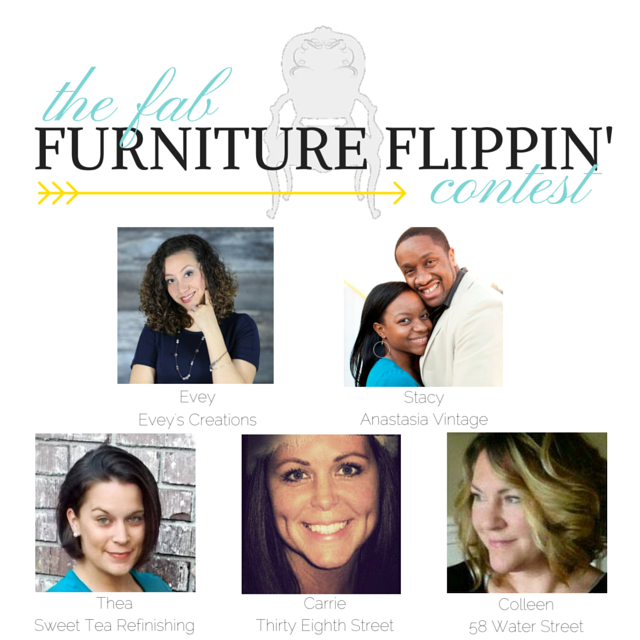 A great big thank you to the Fab Furniture Flippin' Contest and this month's hosts:  Thea from Sweet Tea Refinishing and Carrie from Thirty Eight Street.   Each of these gals has a project up on her blog using Country Chic Paint!  Check them out.  And ALL of the entries can be found at the end of those posts!
If you are a blogger who is interested in participating in future contests send an email to info@fabfurnitureflippincontest.com.
Some or all of the hosts of The Fab Furniture Flippin' Contest receive monetary and/or product compensation from the sponsoring brand, Country Chic Paint, in order to complete their themed projects. Country Chic Paint will also provide the prize package for the contest winner