Today I am trying out a new paint line called L'Essentiel Botanics.  I have been fortunate recently to try several different paint lines in conjunction with upcycling various pieces of furniture here at my store The Blue Building Antiques and Consignment.    Today I am sampling L'Essential Botanics to use on a Mid-Century Modern console upcycle.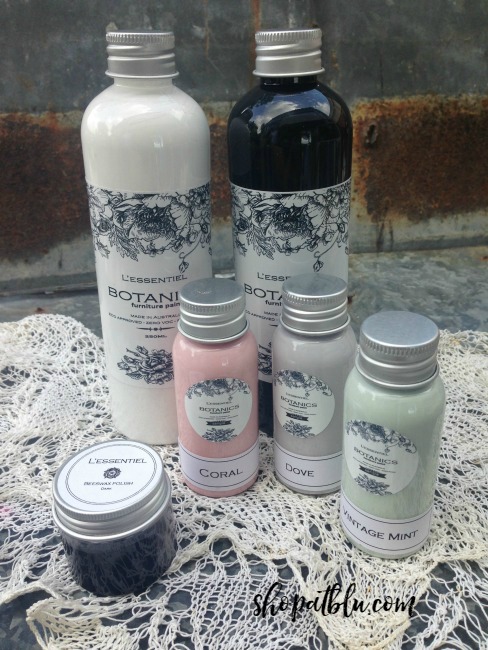 L'Essentiel Botanics, an Austrailia based company,  specializes in all natural vegan paint products (does contain beeswax).   L'Essentiel Botanics furniture paint is all natural containing chalks, clays, minerals, and pigments.  Products are sold in biodegradable containers and their wax contains no solvents (i.e. no drying agents).  The all natural clear wax can be used on hands, feet, face, and often used by farmers.  I received several units of paint and some wax at no cost in exchange for writing this post about my first time using L'Essentiel Botanics furniture paint in this console upcycle.
I asked Michelle, owner of Serendipity House who is a L'Essentials Botanics stockist, to send me a black paint and a white paint.  I was excited when my Liquid Carbon and Pure White arrived.  Michelle also included 3 smaller sample bottles of Dove (grey), Coral(pink), and Vintage Mint (green) and a sample of their beeswax polish.
Before I received the paint, I wasn't really sure exactly WHAT I was going to upcycle. However, when I caught a glimpse of this stunning Liquid Carbon and the Pure White, I knew I had the perfect piece.  One of my dealers at The Blue Building Antiques and Consignment had just brought this console in and I scooped it up immediately.  This is the perfect piece for a console upcycler!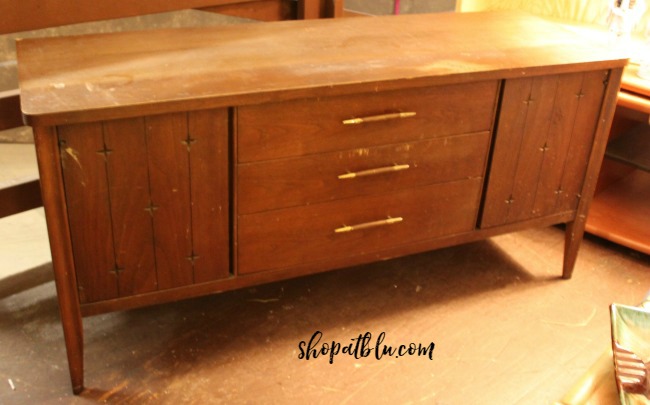 My plan for this console upcycle was to use black as the base color and highlight the details with white.
Being an all natural paint, little prep work was necessary before starting to paint. However, I always feel better by giving the piece a light sanding, nothing crazy…just a little roughing of the surface.  The paint comes in a tall small mouthed bottle.  So I poured some paint into a bowl and applied one coat to the console.  Here is a picture of two drawers after one coat: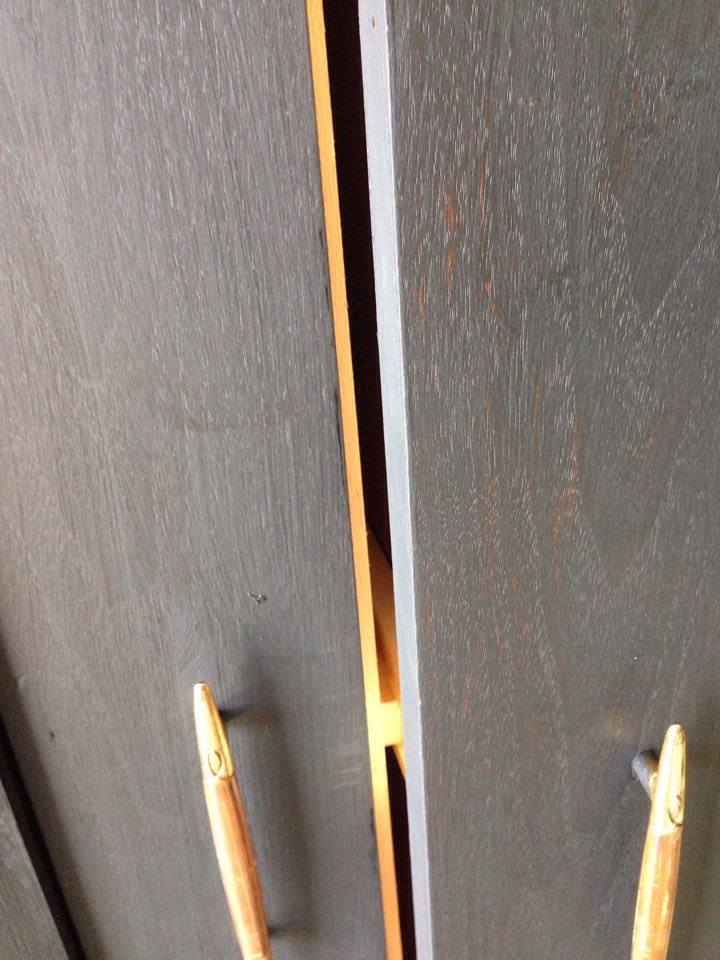 The black paint was very thin.  At first I was concerned that I would need more than two coats.  But after the first coat, the coverage was very good and I figured I would only need one more coat.   And indeed I was correct.  This piece only needed two coats of Liquid Carbon.  I love how the wood grain is still visible beneath the paint.  Often paints are so thick that the texture from the wood grain disappears.  Not with L'essential!  After the second coat the piece had a rich black finish and the texture of the  wood grain was still visible.
I allowed the black to dry overnight.  The next step was to add white to highlight the stars on the front.  I also decided to use the white on the edges of the console to accent the straight lines of this piece.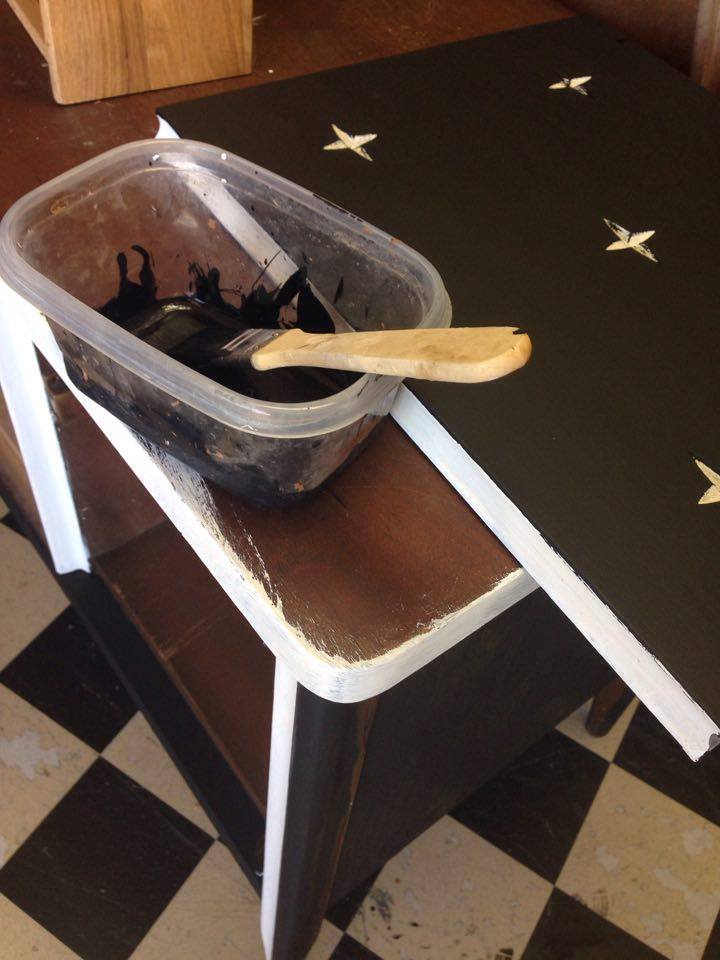 I used painter's tape to ensure my white lines were crisp and sharp.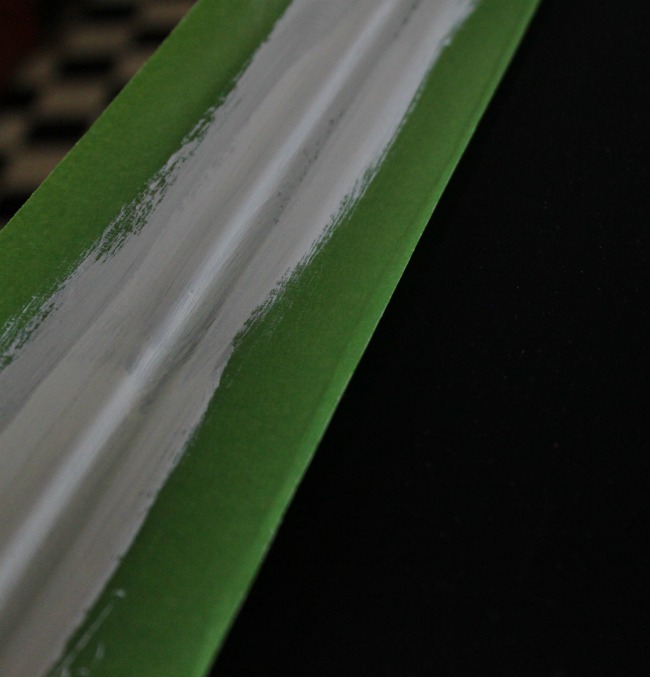 The white paint was much thicker than the black.  This worked well for this project since full coverage without bleed through is difficult to obtain with most whites.  There was some bleed through so I sealed the white with a topcoat and then repainted the white. This eliminated the bleed through.  Again, bleed through is a VERY common problem when using any white paint to cover wood.  This is due to the lack of pigment in white paint!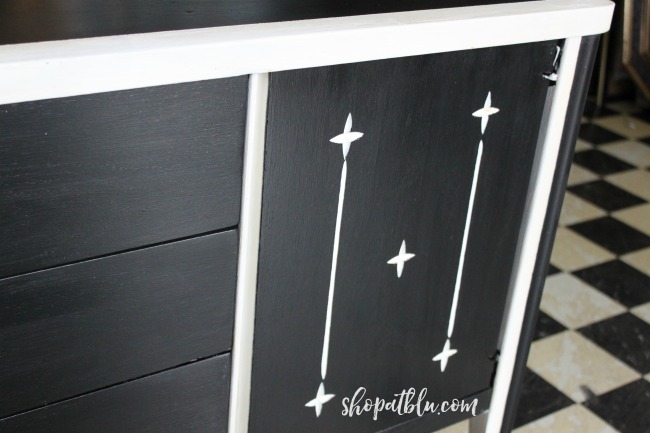 I added the white highlights to the doors and sealed the piece.  I am quite pleased with the finished product.  I am especially impressed with the smooth finish of the black and the fact that the wood grain texture is still visible.
And how about these handles???  I love MCM hardware!  Such sleek lines and character!  L'Essentiel Botanics covered the metal handles nicely.  I applied a sealer to ensure the paint would be protected during everyday utilization of the drawers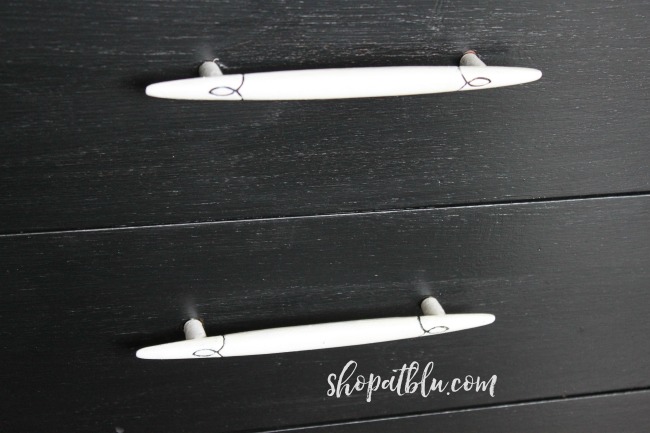 And there she is!  This piece would be great as a media station or TV console!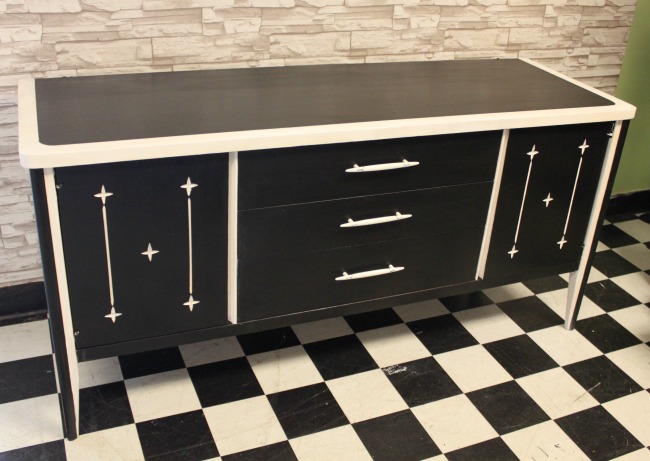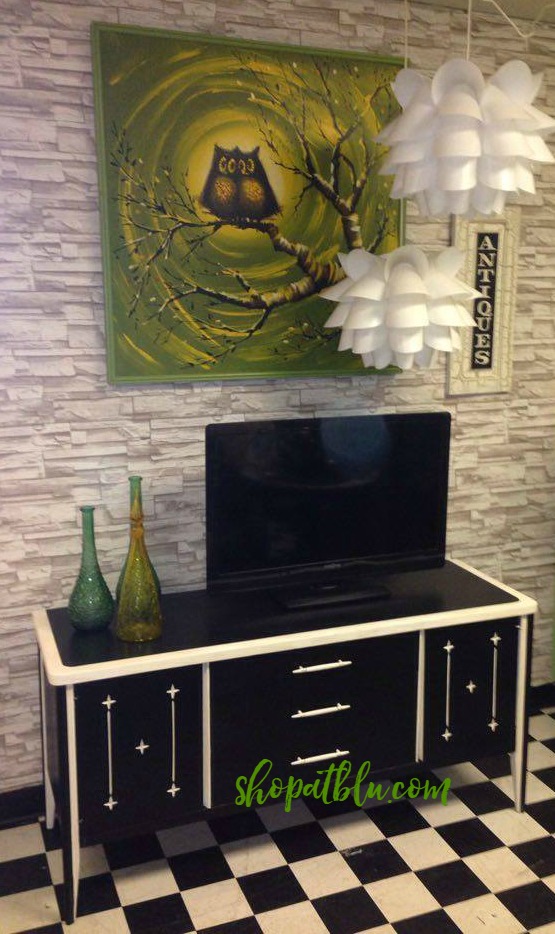 I was very please with the coverage of this furniture paint.  Both the black and the white are true to color.  The black is striking and rich.  The white is pure and thick.  The application was very smooth especially the thicker white paint.  I can't wait to try the other colors on some smaller projects!
Thanks to Michelle from Seredipity House for the opportunity to try this wonderful paint and share my thoughts in this blogpost!  I am anxious to start on some smaller projects and have some more fun with the beautiful colors of Coral, Dove, and Vintage Mint.  You can see what I transformed with those colors in the next week or so.