A group of my blogger friends decided to do this Super Simple Holiday Home Tour – a sweet little holiday house tour of NORMAL homes. Though we love to decorate and are DIY divas, we live in normal little homes with normal little budgets and normal little families. We would absolutely LOVE to be able to run to Michaels, Hobby Lobby, etc. every year to buy the newest and most original decorations on the market. And perhaps that is one of our long term blogging goals. But, like I've already said…right now, we have just normal little families with normal little budgets.
Decor on a budget isn't always small!
If you follow any of us, you know that we can do ALOT on a itty bitty budget. And simply because you have a little budget DOES NOT mean you have to decorate small. Follow along for each of our Super Simple Holiday Home Tours of our normal little holiday homes. I bet you find something phenomenal that was done on an itty bitty budget. And you will probably enjoy the raw reality of our normal little homes!
Family Decor Traditions
Growing up, my mom decorated for every holiday. I loved to help her pull out those decorative boxes from the basement of our Philadelphia home. We would drag them up the stairs and sort through them together. Many of those decorations have long been discarded or broken. But I still have a few and they are displayed proudly on my mantle every year…especially at Christmas. These dolls are one good example. The two tallest dolls and the ballerina in the rear of the sleigh were my childhood dolls. Mom displayed them every Christmas. And now I do!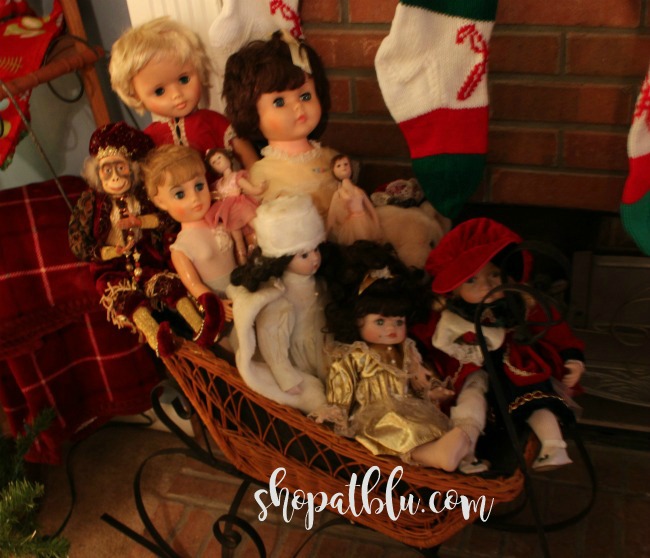 One of my Mom's best friends made Mom and Dad some stockings when they were first married back in 1961. Four years later, she made one for me. And now, my entire family has stocking made by sweet Anne Hoffman! These are possibly our family's most treasured Christmas items!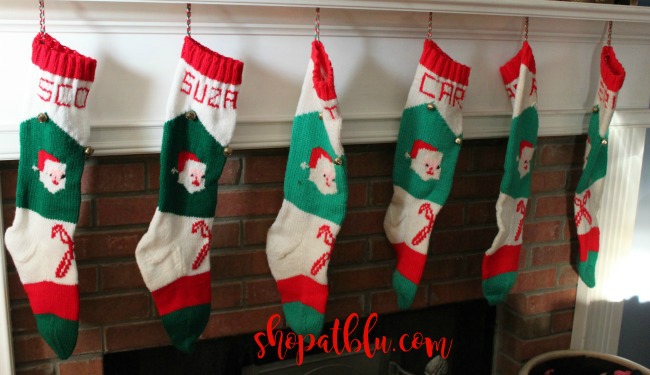 Creating New Family Traditions
As we have grown our little family from two to seven, we have our own family heirlooms and memories that are present on the mantle and on our Christmas tree every year.
While my stockings are unique and handmade, here are a few links I found to similar stockings kits. These links contain my affiliate links. Each time a purchase is made through these links I receive a small commission from the sale without any extra cost to you.

One tradition that I started when we only had two children is the gift of an ornament under the tree. I always tried to pick an ornament for each child that would represent some milestone or highlight of their year. Thus, we have ornaments that represent learning to swim, favorite shows and cartoon animals, getting a driver's license, scouts, sports, karate black belt, games, favorite foods, first jobs, trips to Washington DC, Paris, hobbies, and so much more.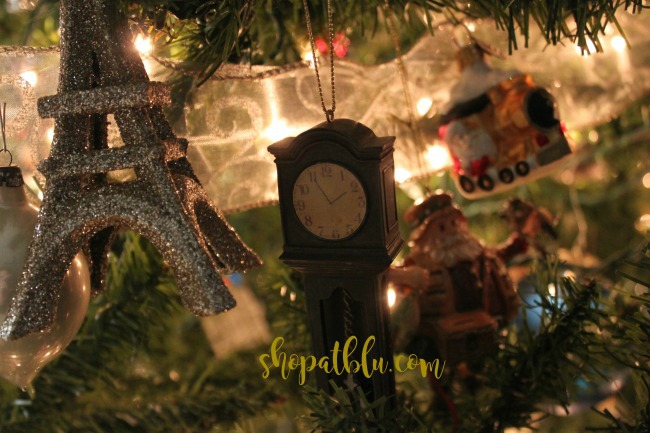 It got a little difficult to be original when buying ornaments for 9 people each year (I also bought one for my mom and dad since they spent every Christmas with us). I paused over the last two years as our tree is always so loaded with personal ornaments that there is hardly any room for traditional balls and ornaments. But I always throw on some balls that we have had from our first Christmases together.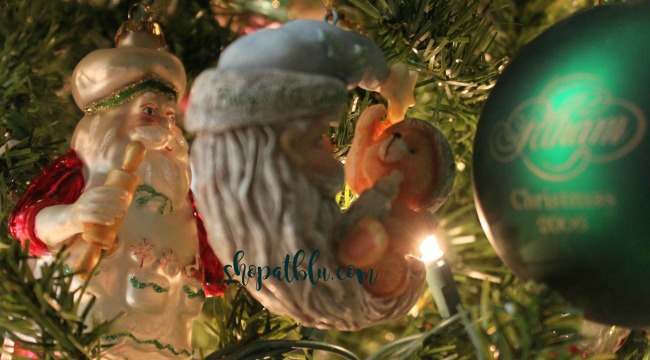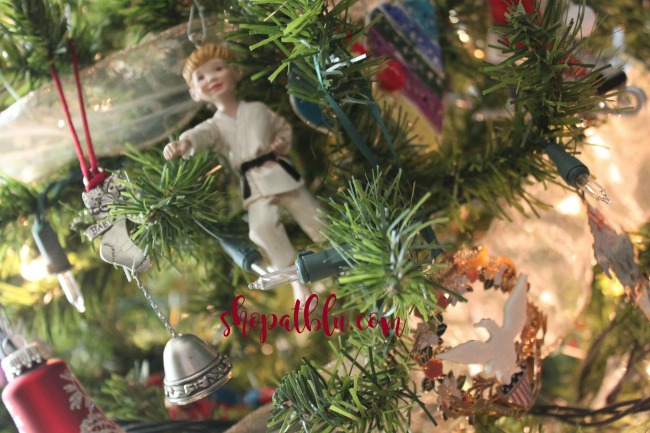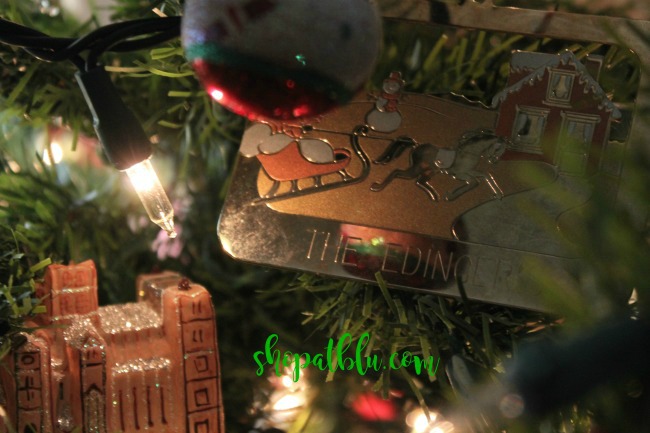 "The Edingers" we inherited from my in-laws when they passed away. This is one of my favorites! It's simple, tasteful, custom made for them, and so very close to my heart!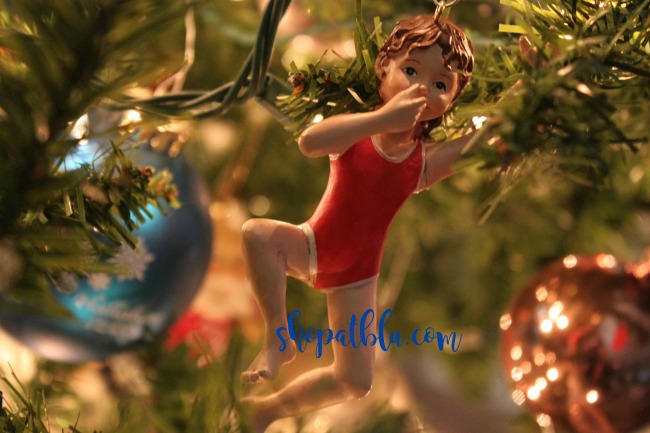 I was so very proud of IV when she learned to swim at the age of 3! I swam throughout my childhood on the neighborhood summer swim team. Go Kendrick! I have several Philadelphia City Championship medals for Team Medley Relays and Free Style Relays. I was also a member of the 1st John W. Hallahan Catholic Girls' High School Swim team! Last year while visiting my high school's website, I saw where a graduate received a swimming scholarship to college! Whoohoo! So proud! Alma Mater Glorify! Wonderful childhood memories…I need to put these soon to be antique medals on our tree! LIGHTBULB MOMENT!!!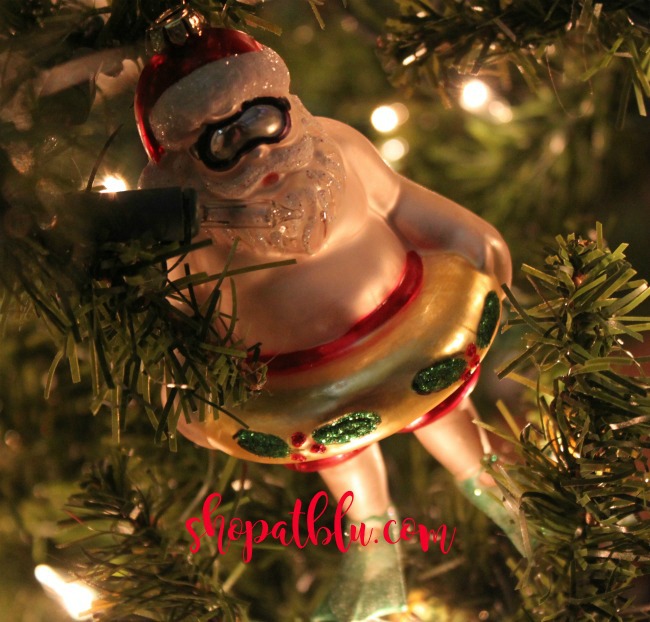 Very proud of "V" when he started swimming at the age of 2! A benefit of being a stay at home mom…finally after 5 children!
Our little ornament collection worked nicely for numbers "I" and "II" who now have homes of their own and a starter set of custom picked ornaments for their trees.
Though I do add new items to our decor each year, my favorite decorations are the older ones that belonged to family members who are not with us any longer. My Great Aunt Marian bought these musical wise men for my Great Grandmother back in the 1970's.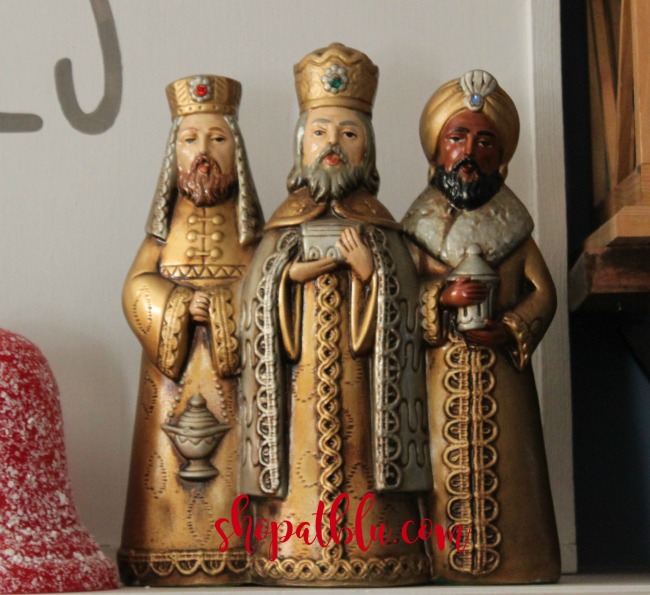 I made this ceramic tree for my grandmother back in 1978 at ceramics class. I've inherited hers, along with the one I made for my great grandmother, and the one I made for my mom.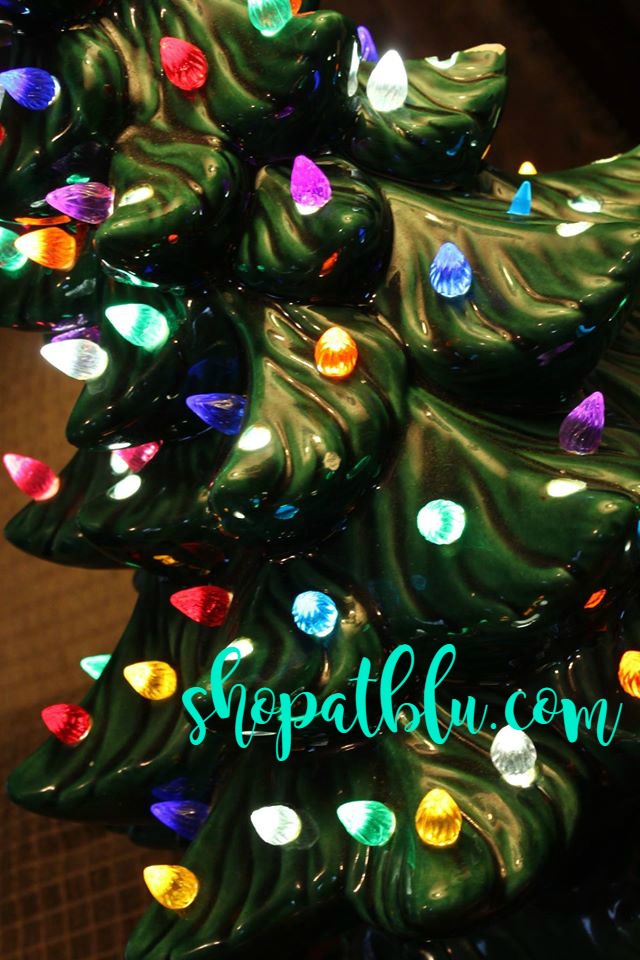 I have seen these trees for sale at craft shows around the holidays. I've also included a few affiliate links below: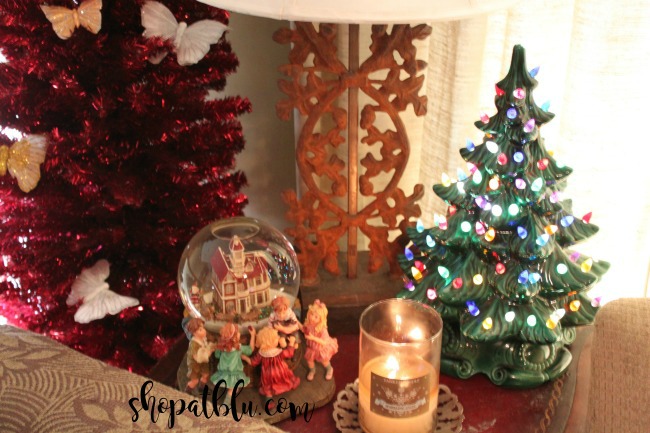 My MIL, Flo, was a crafty creative soul. She was always in her basement with her scroll saw and dremel whipping up holiday decorations. She even had little in home sales around Christmas.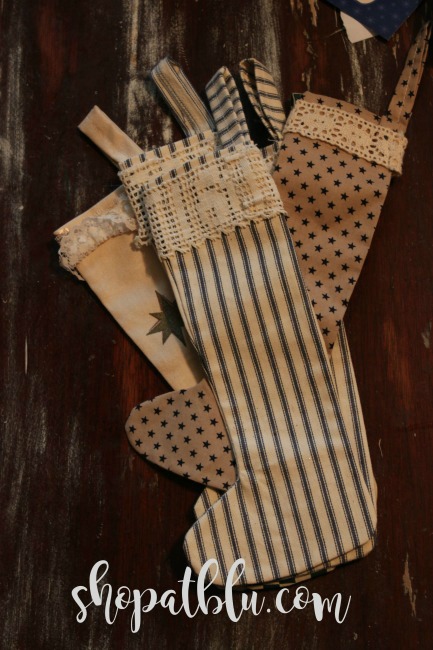 These stockings were sewn on her little sewing machine and are a few of my most favorite items. She was Farmhouse Chic before JoJo was born! I have dreams at night of the two of us shopping Lucketts and Brimfield!
I also started a Nutcracker collection for my 3 boys and a doll collection for my 2 girls. This is another ritual that I have taken a break from over the last 2 years as it is getting harder to display these. Hopefully "I" will take his 14 nutcrackers with him this Christmas to the new home that he just bought!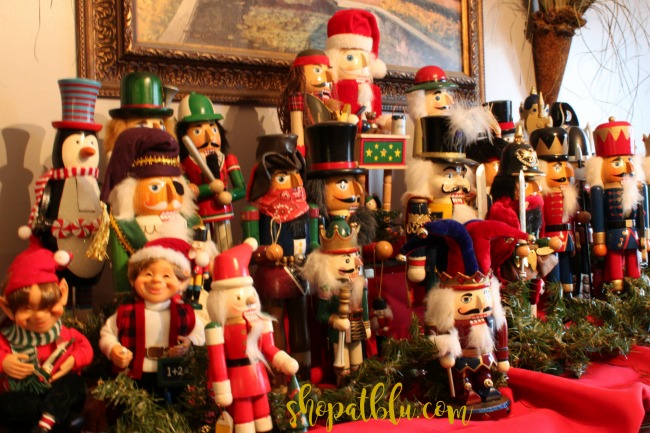 Our tree doesn't really change very much over the years. We always use the family ornaments. We use more or less balls depending on the size of live tree we buy. The last 2 Christmases, we've used our artificial tree for convenience. The kids really only like the real trees but sometimes it's just better for me to go the easier route! They adjust. After all, in a family of 7…adaptation is the norm!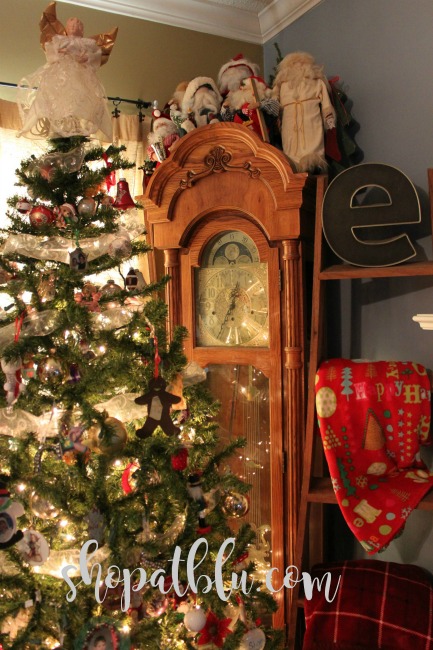 The collection of Santas over the Grandfather clock are Santas that I have accumulated over 25 year of marriage. Some are from craft shows, some are gifts, but all are loved. They are a reminder of my "primitive" days.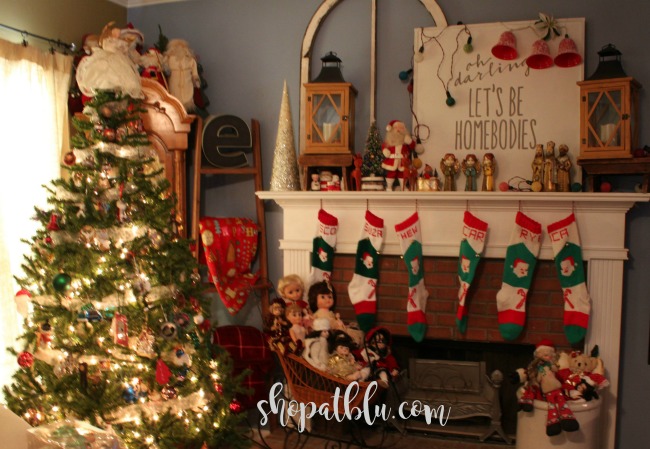 My Christmas style is a little eclectic, like my life! I gravitate toward vintage items…like the Santa on the mantle and the feather tree. Many of these items I have purchased from my own store, The Blue Building Antiques and Consignment, my greatest source for all things vintage and eclectic! If you are ever near Birmingham, AL, stop in and see us! I promise you will be amazed!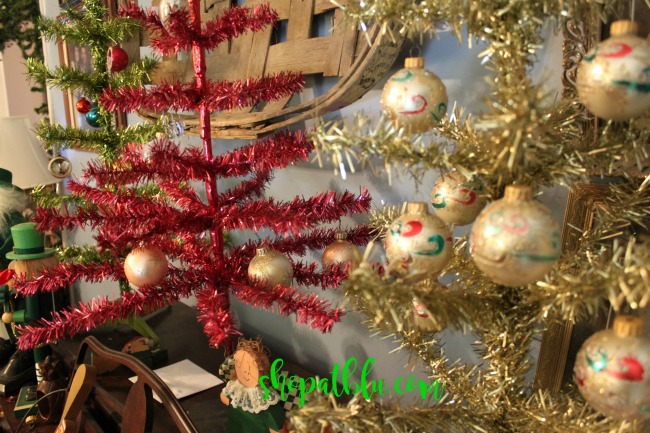 When I see vintage tree ornaments, I am rendered helpless…I MUST BUY! Knowing your weakness is a good thing.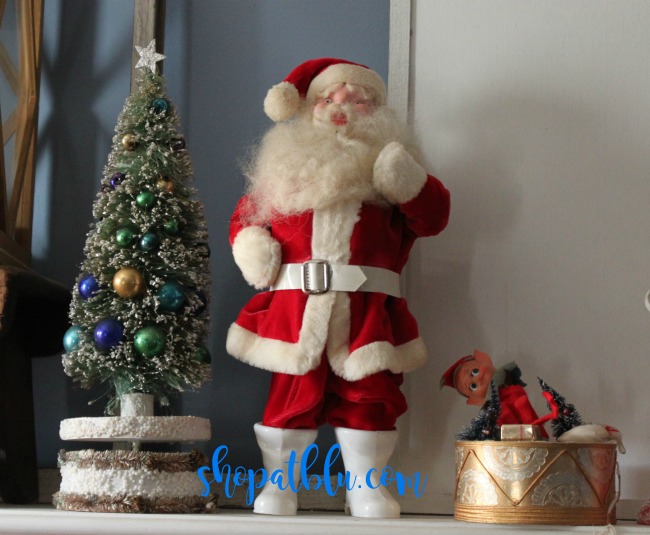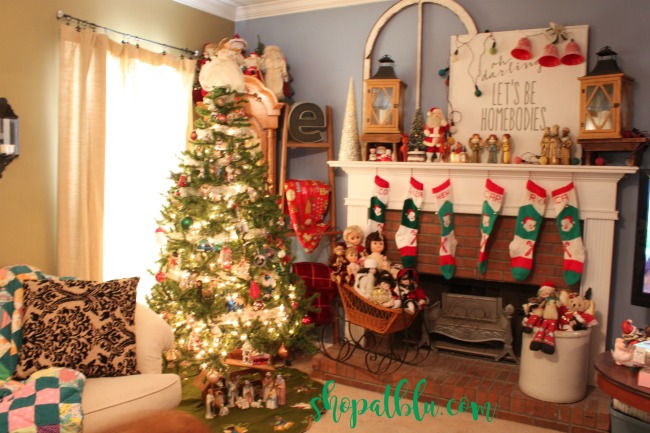 As I reviewed these photos, I was mentally compiling a list of what was missing and what was wrong in my living room.
I have NO Christmas pillows! One of my sweetest blogger friends, Lucy at Ms. Craftberry Bush has a beautiful line of pillows! I MUST BUY SOME!
I should really put more decor on that red pencil tree.
Those santas at the top of the grandfather clock need something more.
My curtains look drab.
I seriously need to make a beautiful Christmas pallet sign to replace the "My darling" sign just for the holidays. Note: I love this sign and it's new from this year's Market on Chapel Hill so it might just stay here 'cause I'm probably not gonna have time to make a sign this week.
Just goes to show you…we are never, ever finished! There is always more to do, more to buy, more to fix.
One think I have learned this year is that I must move at my own pace and in my own groove. Comparison is indeed the thief of joy! So my message for this tour is this: take a little inspiration but don't beat yourself up. After all…here is a picture I took to show you what I started with: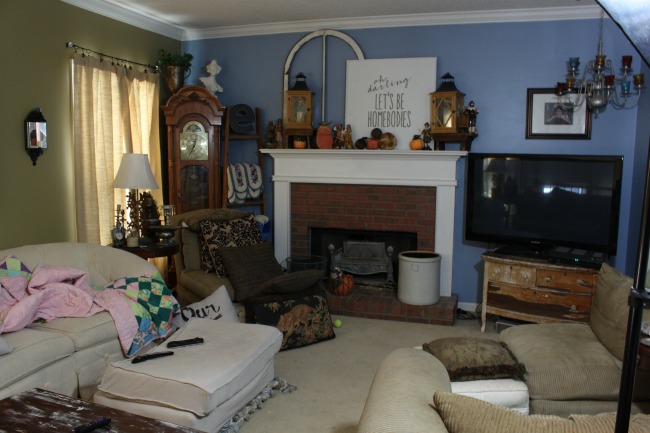 But here is what I really started with: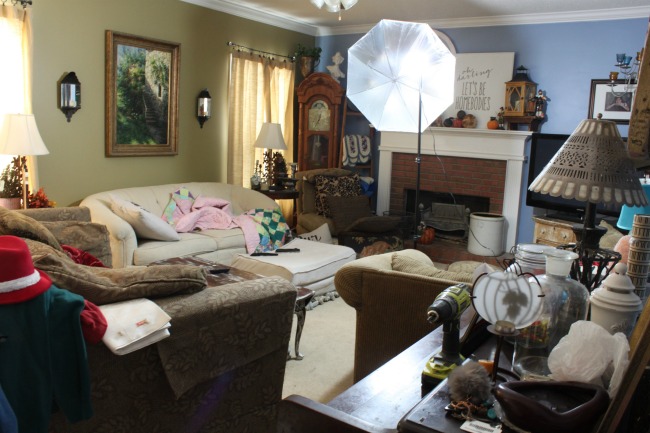 See Pop's hat and jacket and newspaper at the bottom left, my drill and keys on the piano to the right? My point is that there are lots you don't see in the snapshot that you are presented with. Remember, there is always always always more behind the scenes! Nothing is perfect! No-one! Not ever!
So, this was a glimpse into my home…my home that needs so much work and updating! My living room that is overstuffed with furniture to accommodate 8+ people lounging comfortably on Thanksgiving, Christmas, New Year's and Easter! My walls and carpet that need updating! But, don't we all! All things in due time my friends!
And no glimpse would be complete without some picks of my constant helpers.
Levi loves to inspect all of the decorations!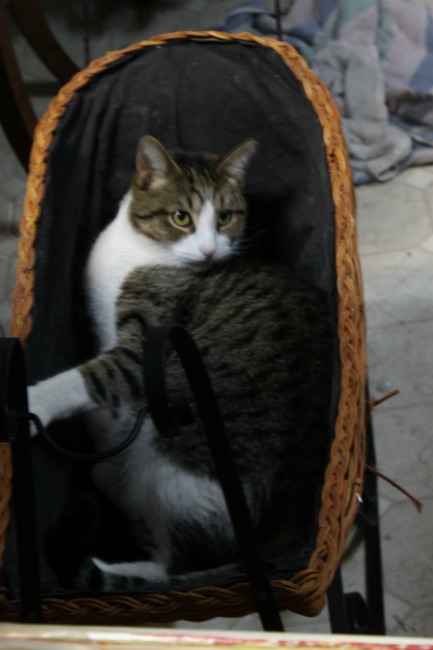 And Hercules likes to go incognito!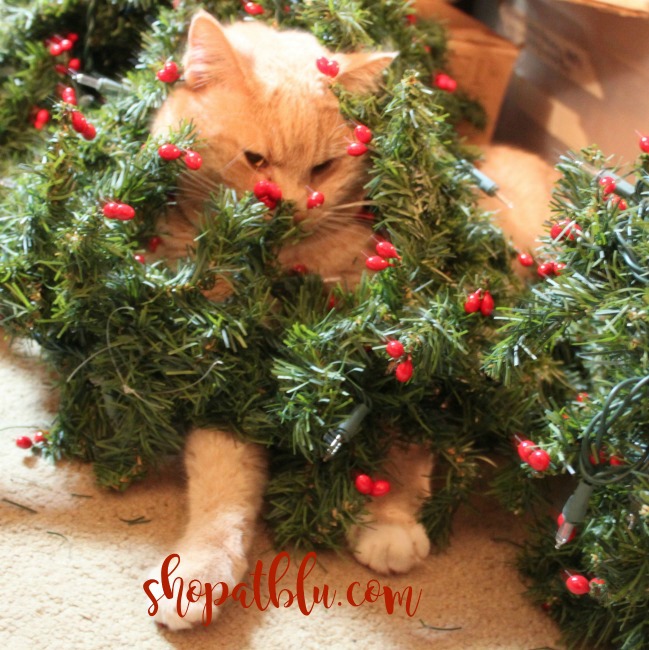 And Mia, well, she likes to nap!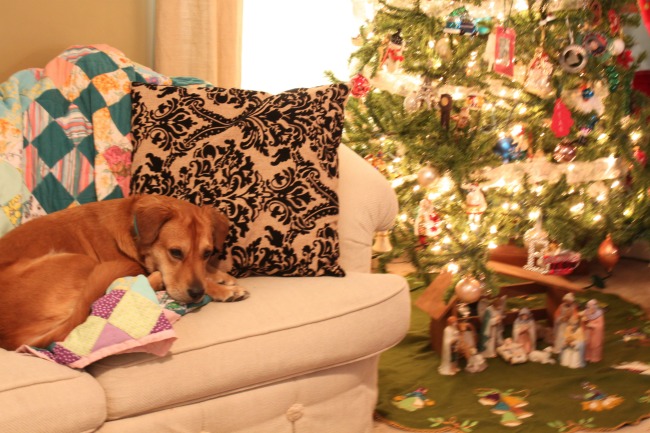 I'm missing my scaredy cat Bella…she's shy! But I promise some pics of her and Bowser the Ferret at a later date…maybe New Year's!
Merry Christmas everyone!
Continue the tour with the wonderful homes below: