I started sprucing up my deck about 2 weeks ago. I am always amazed at how strong the southern sun is and how damaging to outdoor cushion fabric…with or without UV protection. Last year I splurged and bought 2 outdoor seat cushions for our cute metal chairs on the deck. When I say splurged, I don't mean I spent alot of money. Rather, I actually purchased them NEW from a brick and mortar store. In the past I've been lucky enough to find used outdoors cushions for only a dollar or two each since I own The Blue Building Antiques and Consignment The Blue Building Antiques and Consignment and we have incredible dealers. But in this case, my splurge cost me only $8 for 2 cushion.
This year I pulled out my cushions and they were so sad! The Alabama sun has bleached the fabric and since I "splurged" last year, I refuse to splurge again this year.
Here is one outdoor cushion at the end of last year's season. Prepare yourself…they are dirty even after spritzing with bleach and water. There is not even a sign of the cute pink and white buffalo check pattern that once rested on the surface. Dirt and debris settled into the tufts and permanently stained the fabric.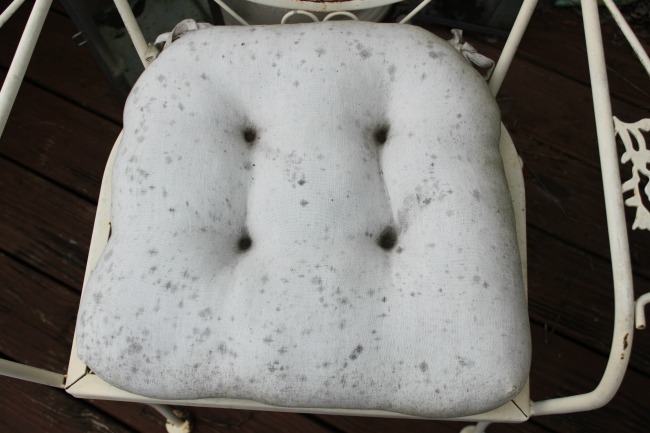 I even scrubbed the cushions gentlywith a mixture of bleach and water. It was after I took the time to scrub them that I decided I was still going to use them.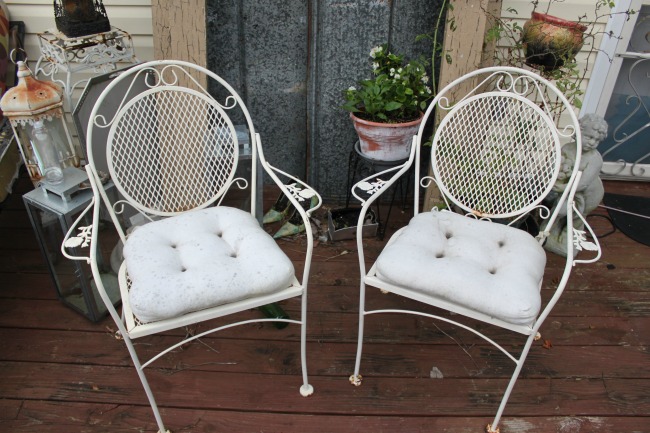 I get so tired of dirty cushions! So I decided to grab some paint and get to work. This seemed like a cost effect and quick solution to renew my cushions.
I have painted other fabric pieces, most notably a sofa. You can read about the sofa upstyle HERE. Painting fabric can be tricky. The best advise I can offer is to practice first. Read up on various techniques and then actually try them yourself BEFORE you jump into your main project.
Since these cushions will remain outside, I was not worried if they did not have a soft texture. Actually, if you use straight paint, without diluting it with water, the final texture on the fabric will usually feel stiffer than fabric and more like vinyl. For my outdoor cushions, this would be perfect. A stiffer texture would allow them to be easily wiped off or hosed down…depending on how vicious our rains should be here in Alabama this season.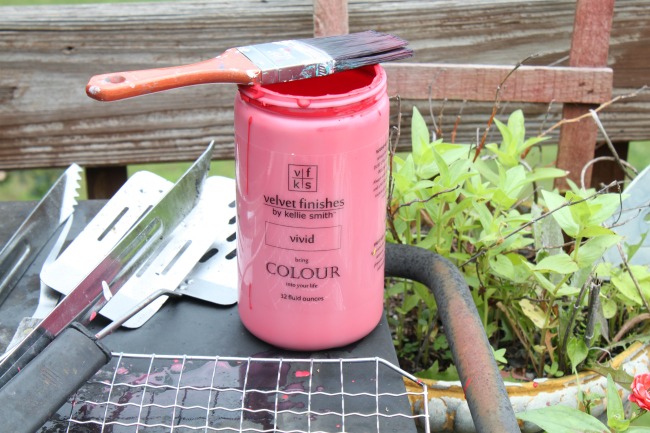 I had some of my sweet friend Kellie Smith's paint left over from a previous project. Kellie is the creative genius behind Velvet Finishes. I grabbed some VIVID and a brush and got busy.
And here they are now, completely refreshed with VIVID, a vibrant red from the Velvet Finishes paint line.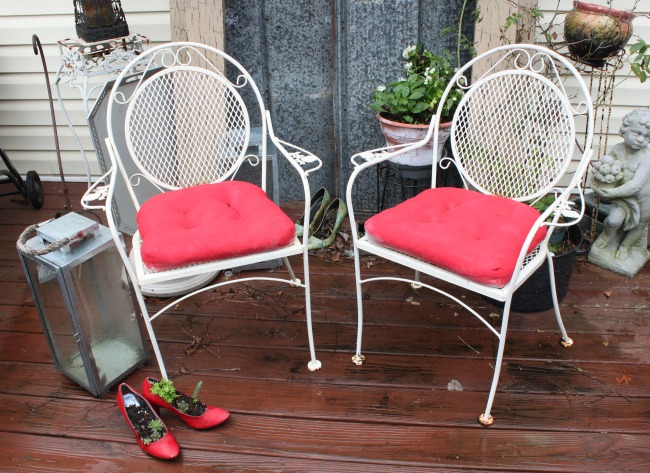 I still have a little touching up to do and I will be painting the chairs with a fresh coat of white. But in the meantime, these beauties are brightening up the deck!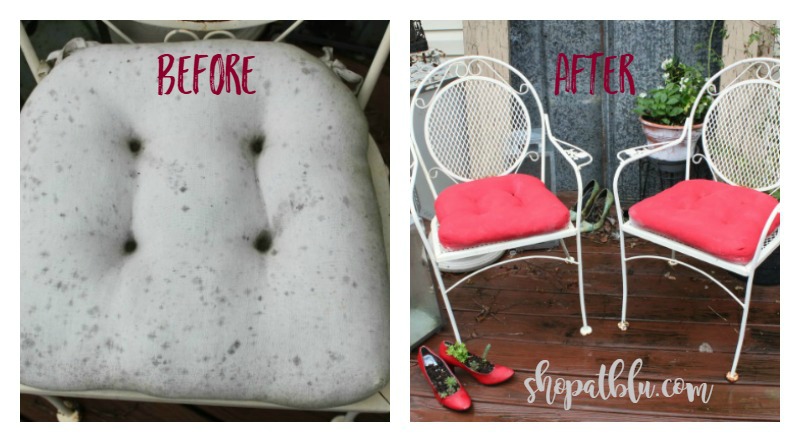 A fabulous group of my blogger friends are linking up their projects in The Inspired Makers Challenge: The Outdoor Edition. Check out the projects below and enjoy the inspiration!