Today I am trying a new product called O'verlays. O'verlays specializes in lightweight, decorative fretwork panels (overlays) that come in several patterns and sizes. They are paintable and easily attach to furniture, mirrors, walls and glass. The kits can be used to customize your favorite or old furniture. In addition, they are sized to fit many of IKEA's most popular pieces. I wasn't really sure what to expect when I signed up to receive this product. I guess I expected stencils or a rub-on like design. Wow! Was I ever surprised! Here are the products that I received:
I selected Ruby (2 panels) and a Pipa kit (4 pieces). They are much more substantial than I had expected. They actually resemble a trellis or actual piece of wall art! Oh the possibilities!
My original thought was to reinvigorate a small waterfall chest. I envisioned the designs on the drawers. But when the product arrived, my vision switched to wonderful mirrors behind the designs. Or how about dressing up a plain jane dresser?
I decided to go with a super simple piece of furniture. I searched through my store, The Blue Building Antiques and Consignment, for the plainest and most boring item in the store. Here is what I found: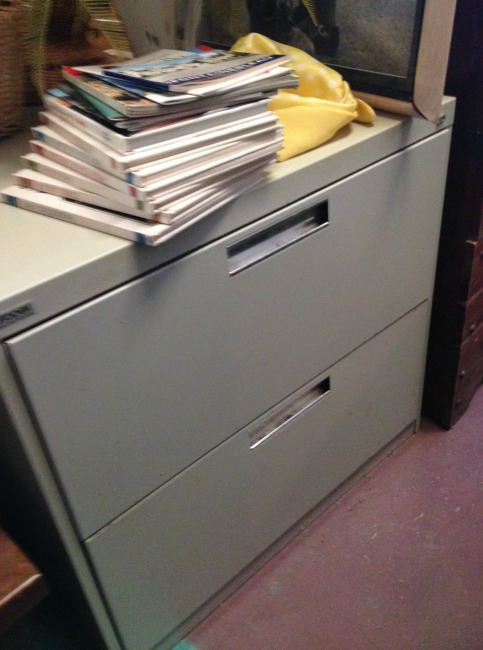 This super boring legal filing cabinet would be great for added storage in any room. All she needs is a little bling, some TLC…and some overlays!
I decided to go bold and use a bright coral to really make this baby special. Since the filing cabinet is made of metal I selected Rustoleum as my paint of choice. Two quick coats of spray paint and I was ready for the overlays. I opted to leave the overlays white to ensure a nice contrast with the bright coral.
I was anxious to use my overlays but was not sure about a pattern. So I played around with a few. Practice makes perfect, right??!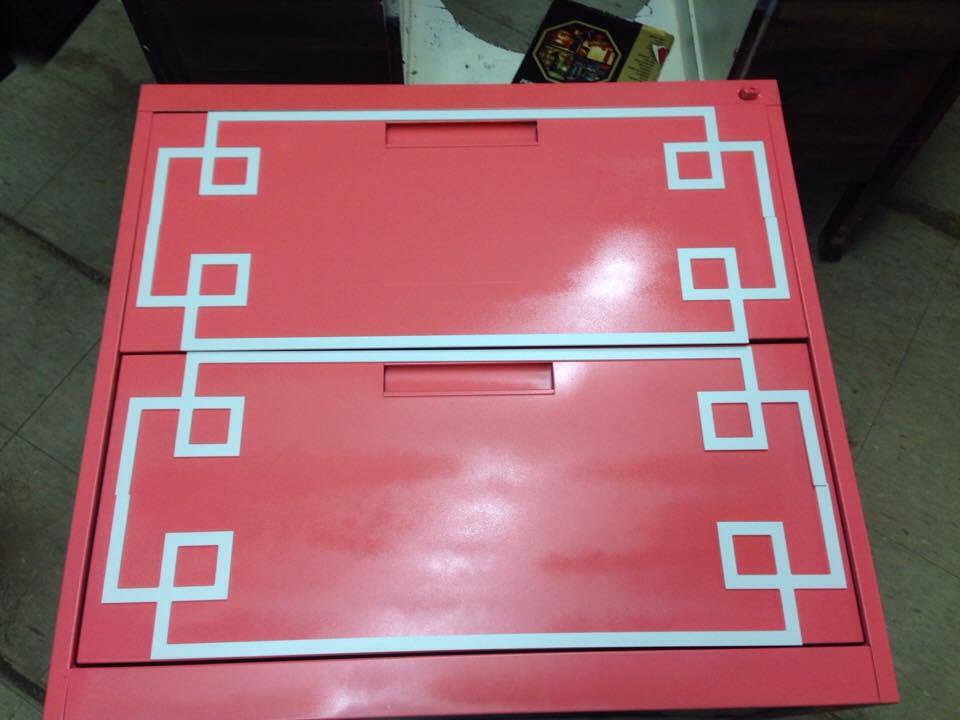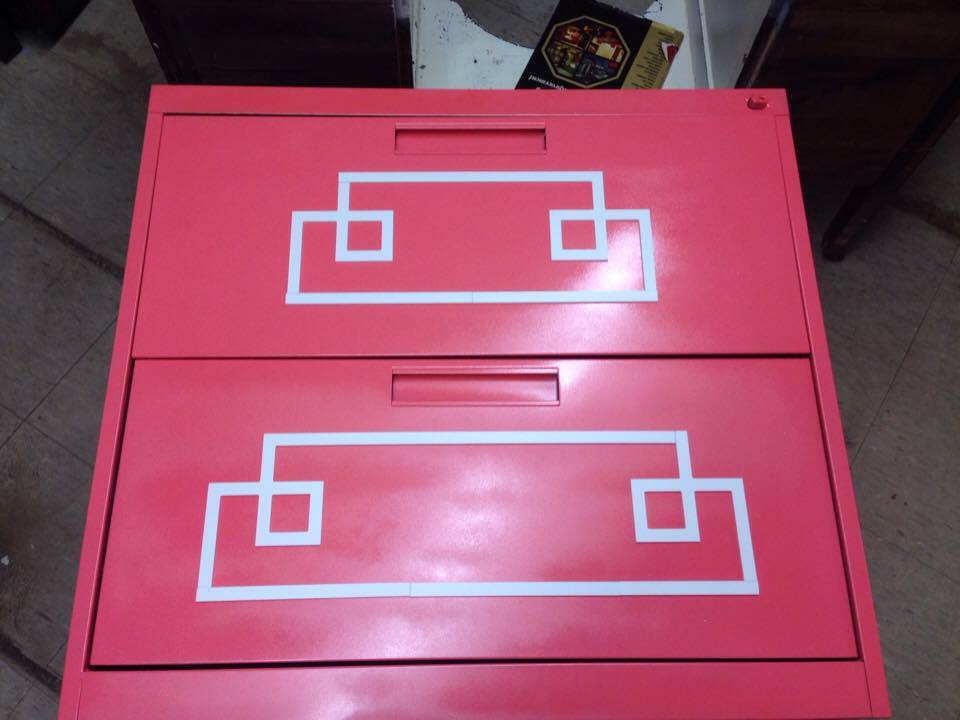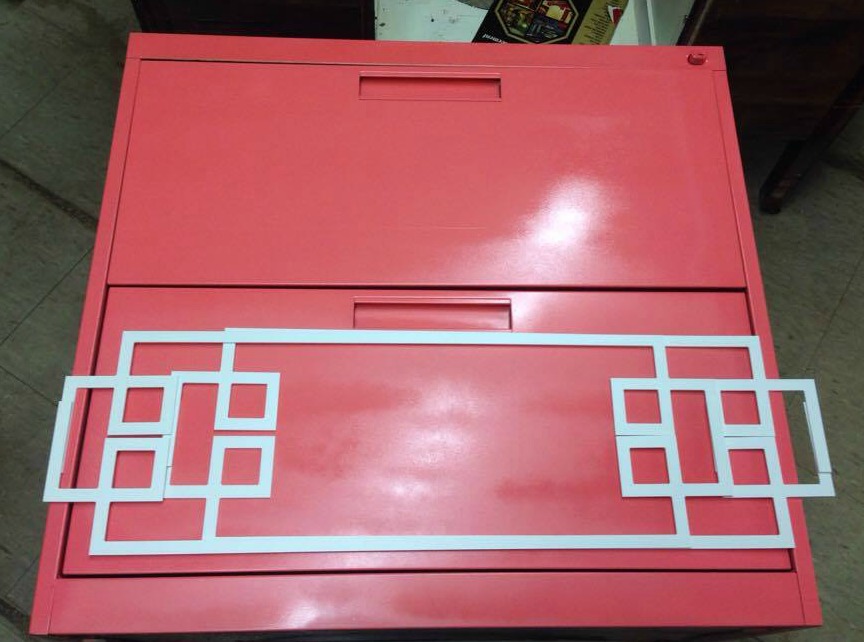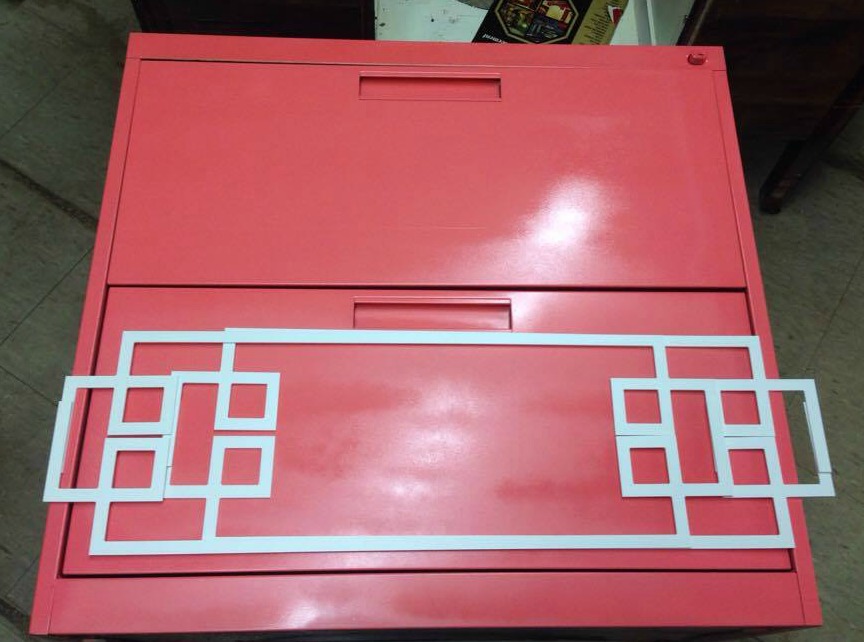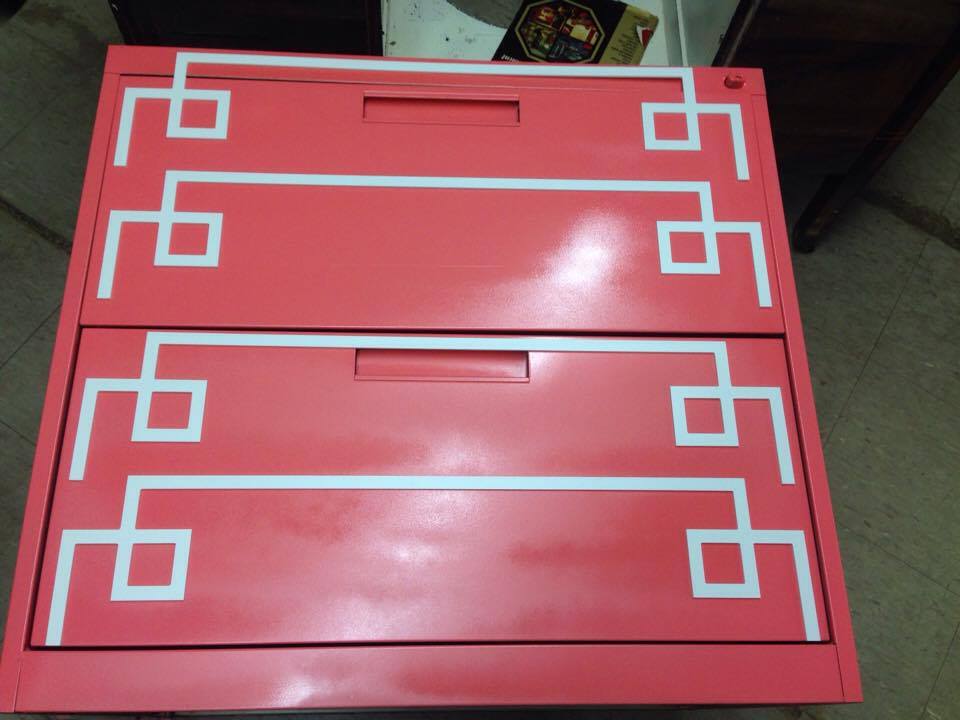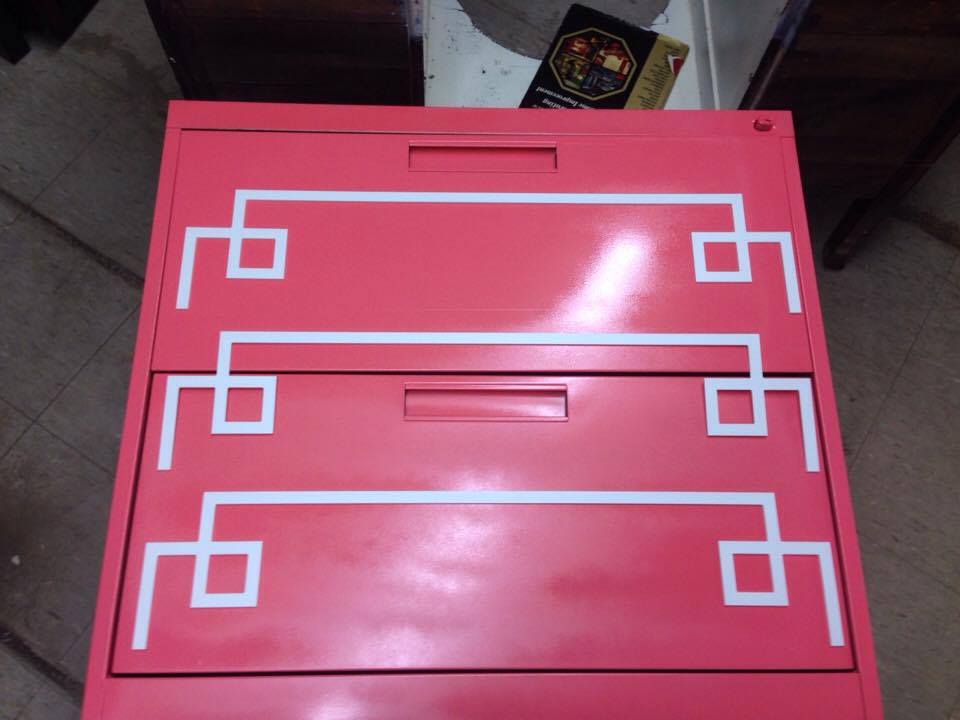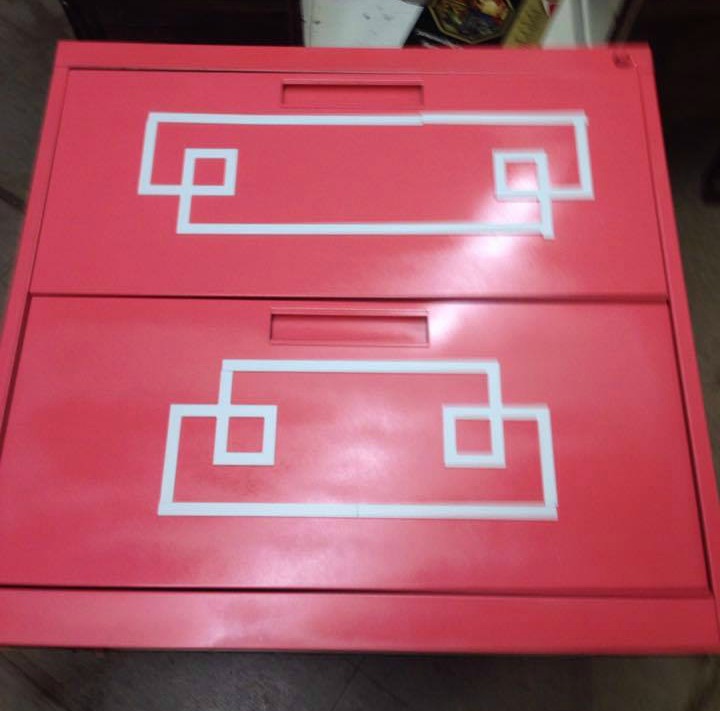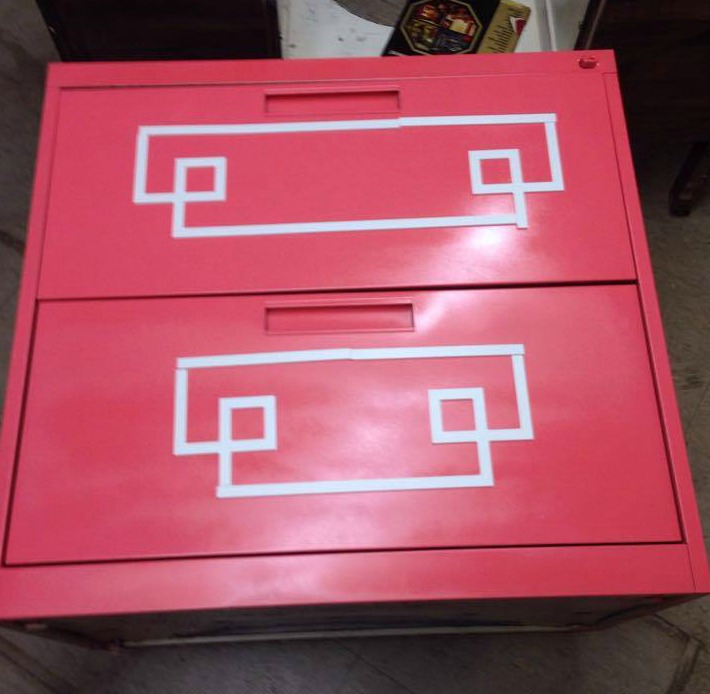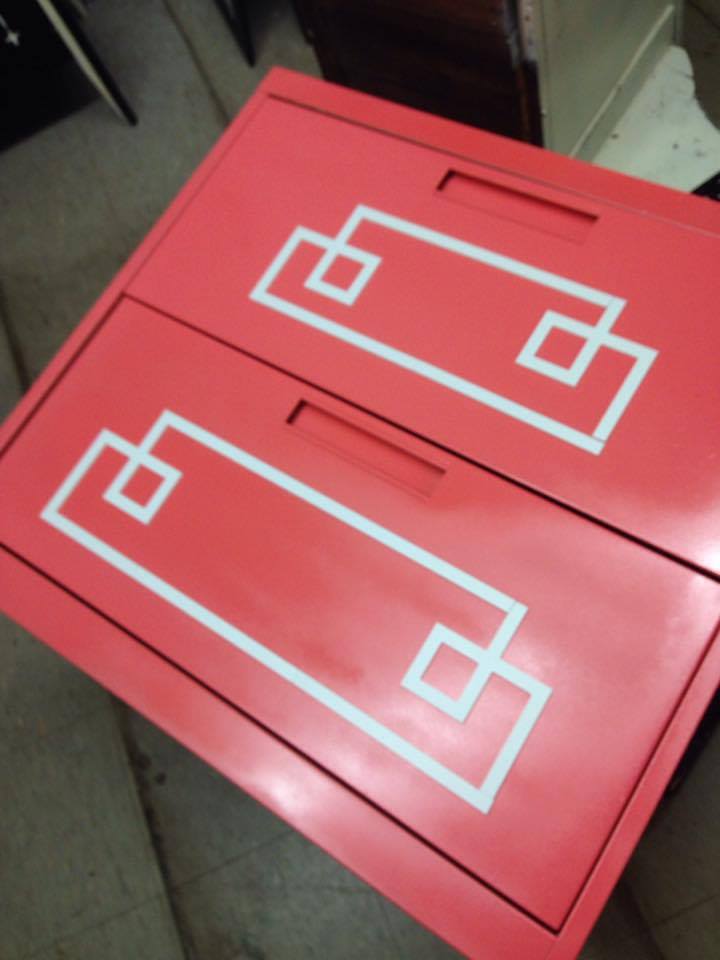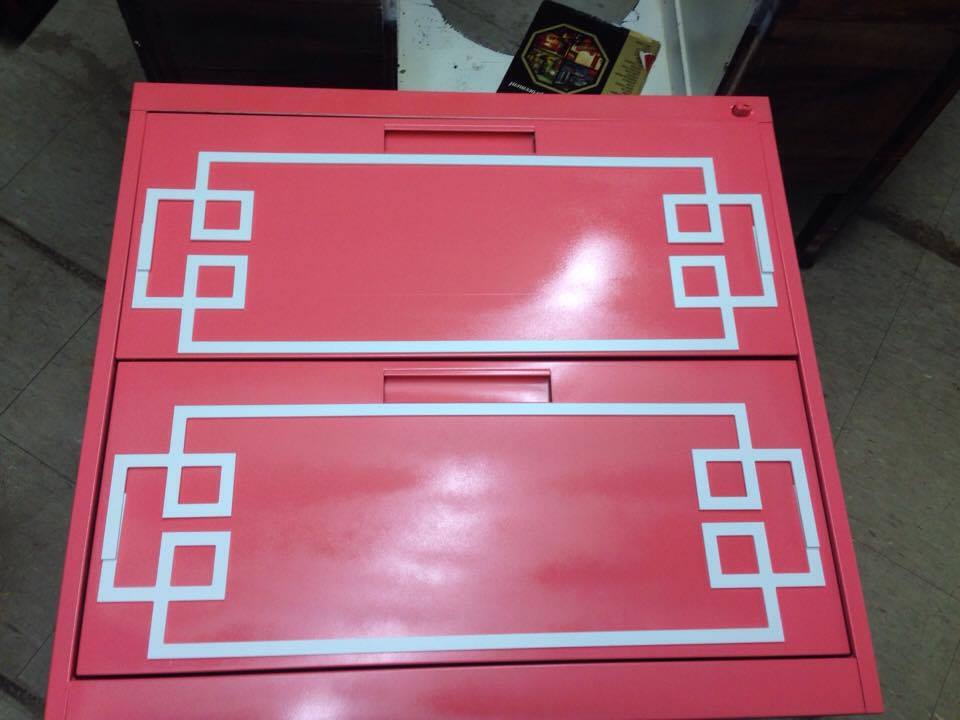 Which is your favorite? Mine is below.
What is wonderful about O'verlays is that they cut easily with a sharp blade. I used a standard razor knife and a straight ruler as a guide. After scoring the piece I needed to trim, it snapped cleanly apart. I used a piece of fine sandpaper to sand the edges. I was able to piece the overlay into a custom fit for my file cabinet.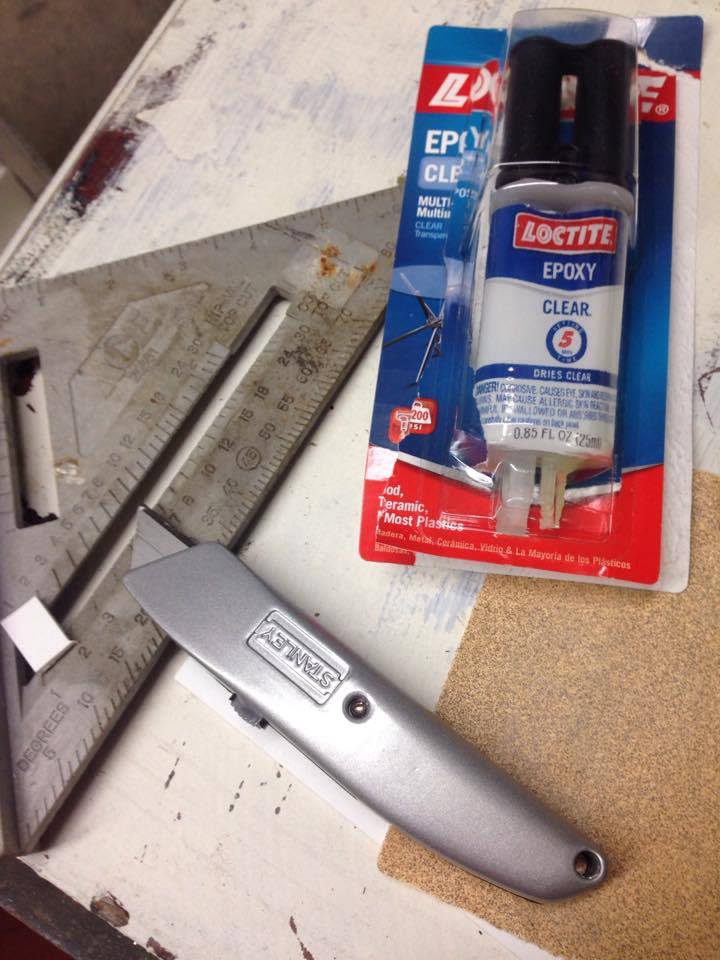 Next step is to install the overlays. Per manufacturer's instructions, the best adhesive to use is either Liquid Nails or Loctite. I chose Loctite since I had some on hand. I mixed the epoxy per instructions and used a toothpick to apply a small amount. I carefully placed the overlays in place and waited 10 minutes for it to dry.
I decided that she needed to be framed in white to make the piece more appealing. Here she is: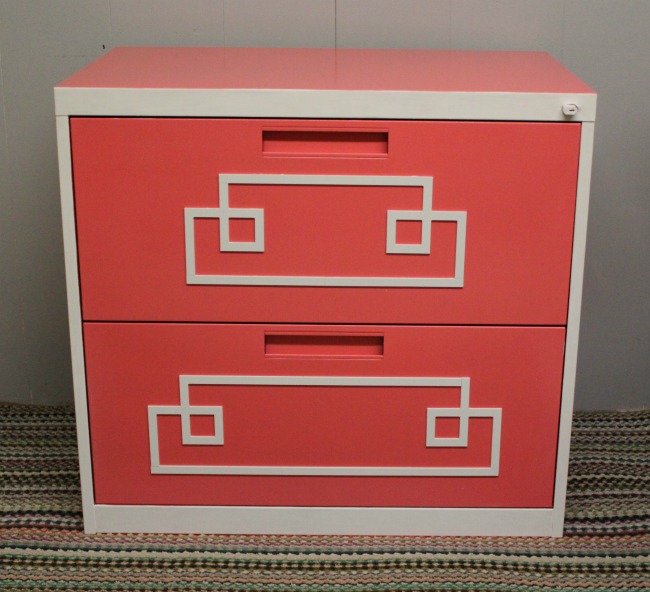 I had a lot of fun staging this beauty. I'm really loving this color!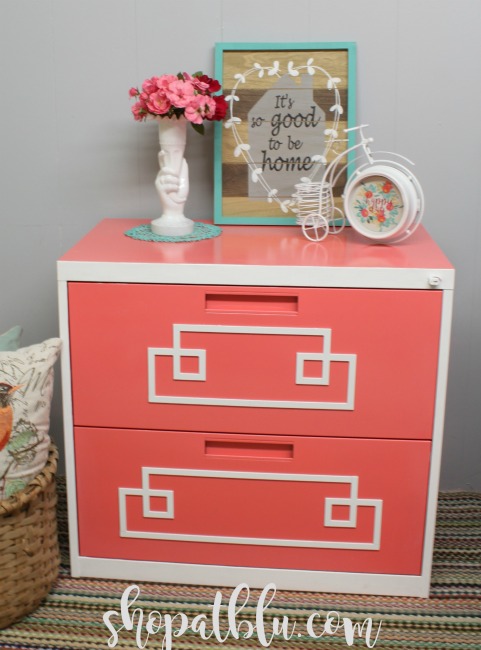 These overlays were so very easy to use…from cutting them to fit to applying them. The most difficult part was selecting one design from their vast array of choices! I can't wait to use the other overlays that they sent to me! Stay tuned for that project.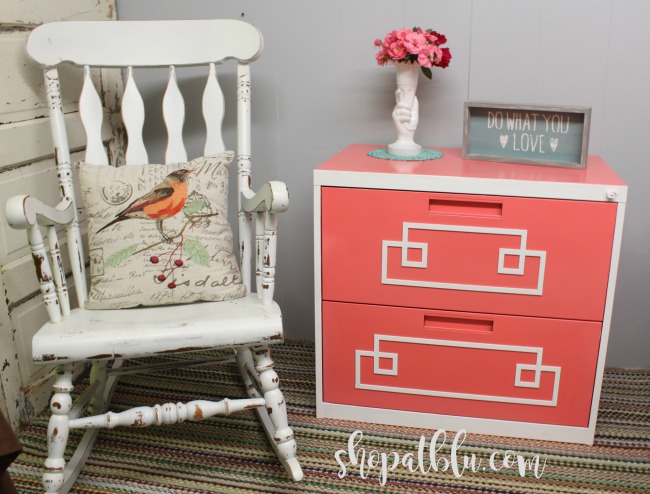 I received these products from O'verlays as a participant in The Fab Furniture Flippin' Contest for April. O'verlays sent me these fabulous products for free to use in this contest. Contest winners will receive a prize package compliments of O'verlays.
The Fab Furniture Flippin' Contest is a monthly contest in which 20-30 bloggers each transforms a piece of furniture using products provided by that month's sponsor. The sponsor provides a prize package for the winner.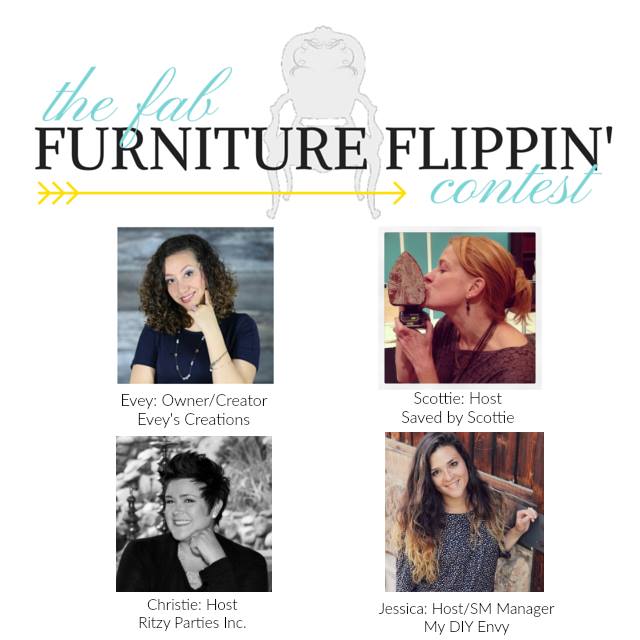 This month's theme is "Cut n Paste with O'verlays"! Our host is Scottie from Saved by Scottie. Hop on over to her blog to see the fabulous piece she created using O'verlays.
If you are a blogger and are interested in participating in this contest, contact info@fabfurnitureflippincontest.com. I can't tell you how much fun this monthly contest is…from trying new products and networking with sponsors to forging friendships with blogger buddies.