Preparing for The Market on Chapel Hill
Wow! What a crazy few weeks! The Market on Chapel Hill 2016 was on Saturday, October 1. It was a crazy exciting week before the market. Pop and I had planned to fly to Philadelphia for a wedding. Just 2 days before we left, my godmother passed away. As fate would have it, her funeral was the day before the wedding and at the same church. We are so very grateful that we could attend this beautiful celebration of a wonderful life. And we are immeasurably grateful for my cousins for inviting us! Had we not received the wedding invitation, we most likely would not have been able to attend the funeral. I am always amazed at how The Big Guy takes care of our hearts!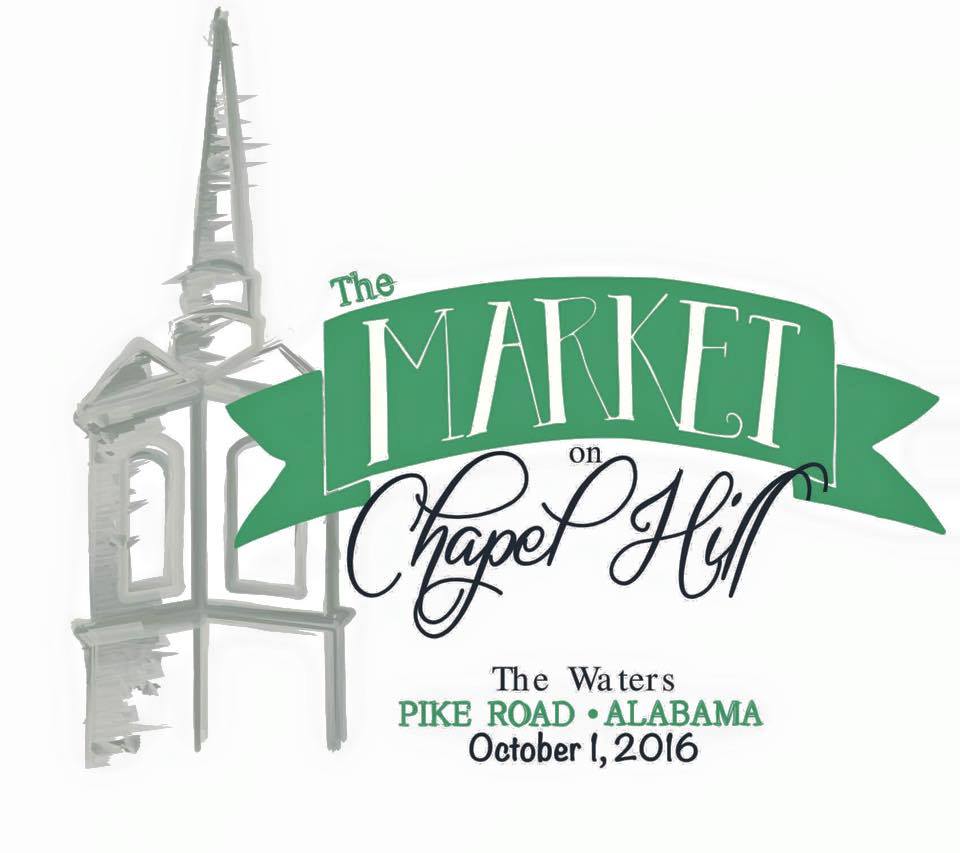 This market was my first in 15 years so I was excited and nervous! And it was a big one-by invite only! How exciting is that!!!! Right??!! You can read about the history of this vintage market in this article I wrote for a local paper. I had done shows when we lived in Pennsylvania, Delaware, and Virginia. But those shows were on a small scale and more like local neighborhood festivals. The Market on Chapel Hill is an upscale vintage market. Don't get me wrong, we have lots of beautiful antiques and vintage items at The Blue Building. But, to be participating in a vintage market with the likes of Olde Tyme Marketplace, Savy City Farmer, Thistlewood Farms, Farmhouse Frocks, Coastal Charm, The Little Golden Fox, Susie Harris, just to name a few…well, that is rather intimidating so my heart was aflutter!
Getting Ready
One of The Blue Building Antiques and Consignment dealers, Kelly, agreed to do the market with me. So for the 2 months prior to the market, we were tucking away treasures for this show. I did a little preview post on items we put aside for the market. You can read about them HERE. My store is 8,000 square feet of what we call "Elegant Clutter". But if you stop by, on any given day, you will find tons of items waiting to be processed for sale and logged for consignment. Every nook and cranny is filled with items. There just isn't alot of space for storage. So about a week before the market, I started staging items for the show in one area of the store. Well, darn if those items didn't start selling! Yes, it's a good thing, but we had to continue picking for the show right up until the day before!
Vendors set up on the Friday before the market. On Thursday, I picked up a rental truck. Originally I reserved a 16 foot truck with a small lift gate. My experience in moving large furniture, but mostly MY AGE, told me a lift gate is critical! I upgraded to a 26 foot truck after my friends KariAnne of Thistlewood Farms and Lucy from Lucy Inspired asked me to bring them some tables and display pieces for the space they would be sharing at the market.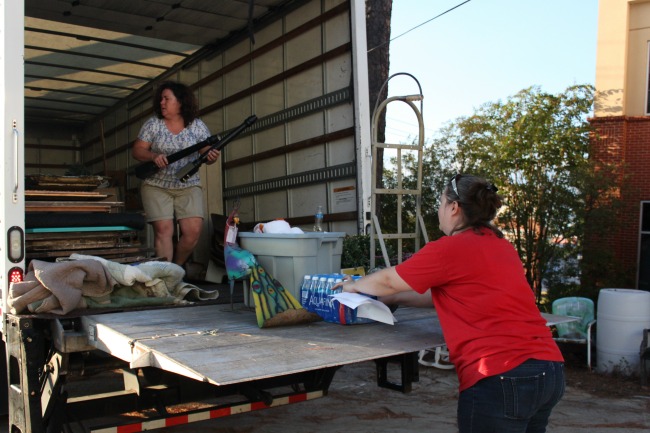 Kelly and I started loading our large pieces of furniture. We started at 10 AM and continued until about 6:30 PM. One piece and one box at a time were loaded. We alternated waiting on customers and we chatted about our set up plan for the next day. By 6:30 PM we were exhausted. So we went home to rest! Our plan was to meet at 7:30 AM the next morning. We would finish loading and depart for Montgomery AL by 8:30 AM.
On Our Way!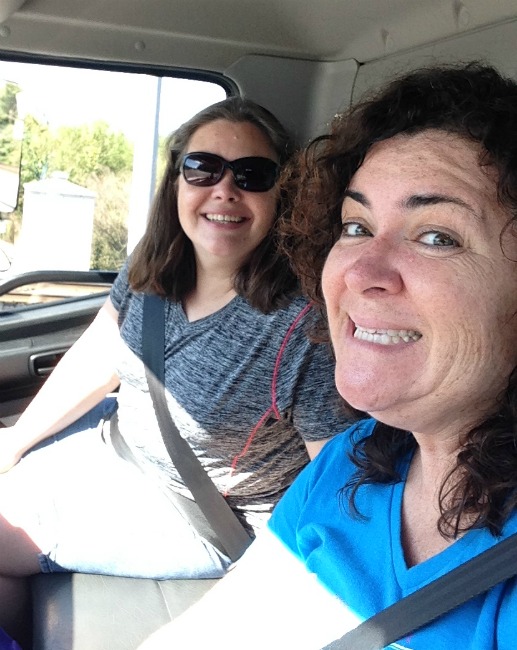 Well, we pulled out at 10:15 AM and arrived at The Waters at 11:15 AM. It took a little maneuvering and some waiting our turn to unload but by 1:30 PM, Kelly and I were filling our sweet space at The Market on Chapel Hill!
Help Arrives!
Around 2:00, my friend Nancy, who blogs at Cobani Bleu, arrived from Nashville to help. Nancy shops The Market on Chapel Hill every year so she was excited to help us in our debut! By 3:30, fellow Blu dealer Tammy had arrived, our final team member!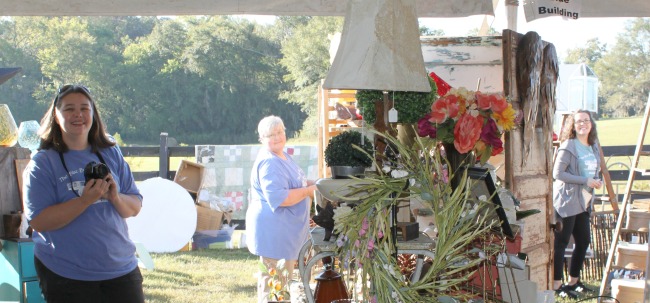 We hustled and arranged and coordinated and primped and by 6:30 PM, the space was ready! We headed out to dinner to relax and chat about the plan for market day!
We were up early and back at our space by 7:30 AM to finalize pricing. We each grabbed some coffee and enjoyed a few minutes of shopping just before the market opened at 9 AM.
Here are some pictures of our space:
Shopping Highlights
And here are some photos of the some of the other vendors including Old Tyme Marketplace, Coastal Charm, Savy City Farmer and Little Golden Fox.
Special Guests and Special Customers
What an exciting adventure this was! Thanks to everyone who came down to see us including Gina Luker from The Shabby Creek Cottage and our loyal customers Katie and Sabrina who stop by every year!
A great big thank you to the community at The Waters for hosting another top notch show! To all of the new and old friends of The Blue Building who made the market such an incredible experience for us…we can't wait 'til next year!
In the meantime, come visit us in Alabaster! We are open everyday but Monday! Stop in any time!
My ANGELS in Blu!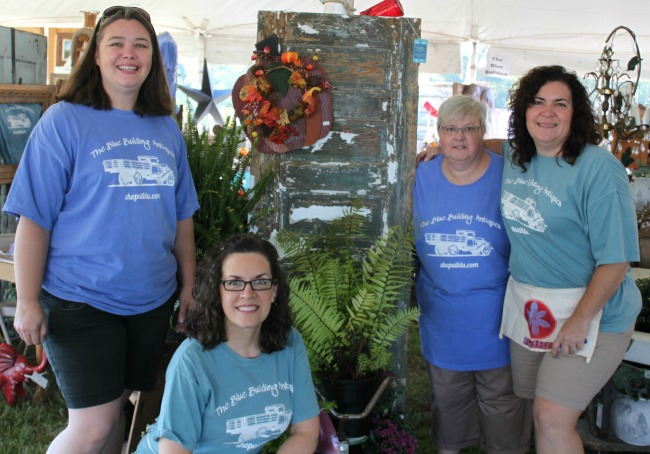 DEDICATION
This post is dedicated to the memory of my wonderful aunt and godmother, Kathleen M. McCloskey. I love you Aunt Kath! Behave yourself up there with Mom and the crew! Until we meet again…Go Lassie Go!