We are finally getting some Christmas decor up at The Blue Building!  I haven't gotten the upside down tree out yet but we have started on a temporary display in the entryway.  Our entryway is becoming a little bit difficult to decorate uniquely because of our faux pallet wall (read about how we made this here).  The color limits what I can place around this wall but I love it so we will stick with it for a while.  I think it will look great with the upside down tree…look for this next week as we slowly pull out all of our Christmas decor!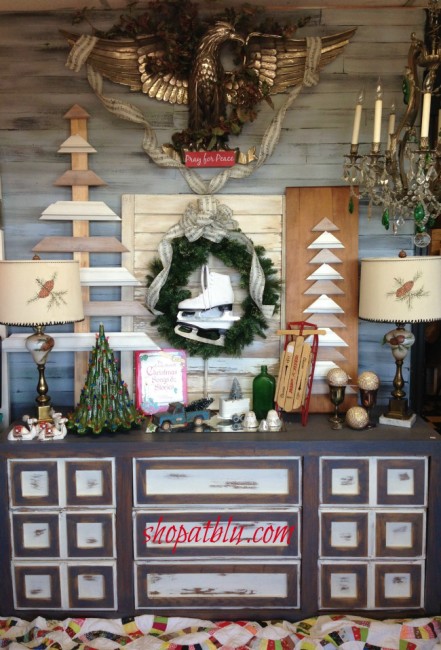 Creating Christmas Decor
We have this rustic/shabby/beachy console/dresser/sideboard still available and it fits so well with the pallet wall that it is staying here at least until we break out the tree and the rest of the Christmas decor.  I made a few wooden Christmas trees out of some scrap wood and molding that has been waiting patiently to be claimed.  These give some height to our display, don't you think?
One of The Blue Building dealers had this rickety old shutter for sale a few weeks ago and I grabbed it quickly thinking it would be a great background for a wreath.  I picked up the ice skates back in August at the thrift store.  The ribbon is from Sam's Club on one of those huge rolls for like six dollars.  There is enough ribbon on the spool to decorate several full sized Christmas trees!  I love the musical note design!  Quite festive!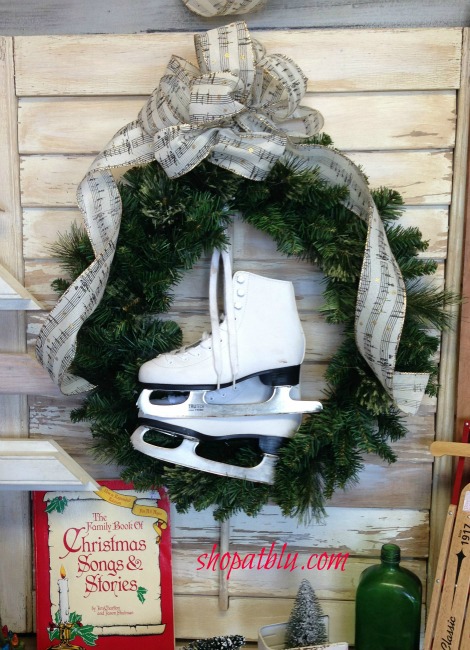 I found this vintage ceramic Christmas tree at the thrift store about 4 weeks ago.  I hadn't seen one in this shape so it had to be mine!  It didn't have any lights so I ordered a set of 100 from Amazon.com for under $4.  It really needs a base with a lighted fixture but for now this will do just fine.  I have 5 of these at home as part of my Christmas decor.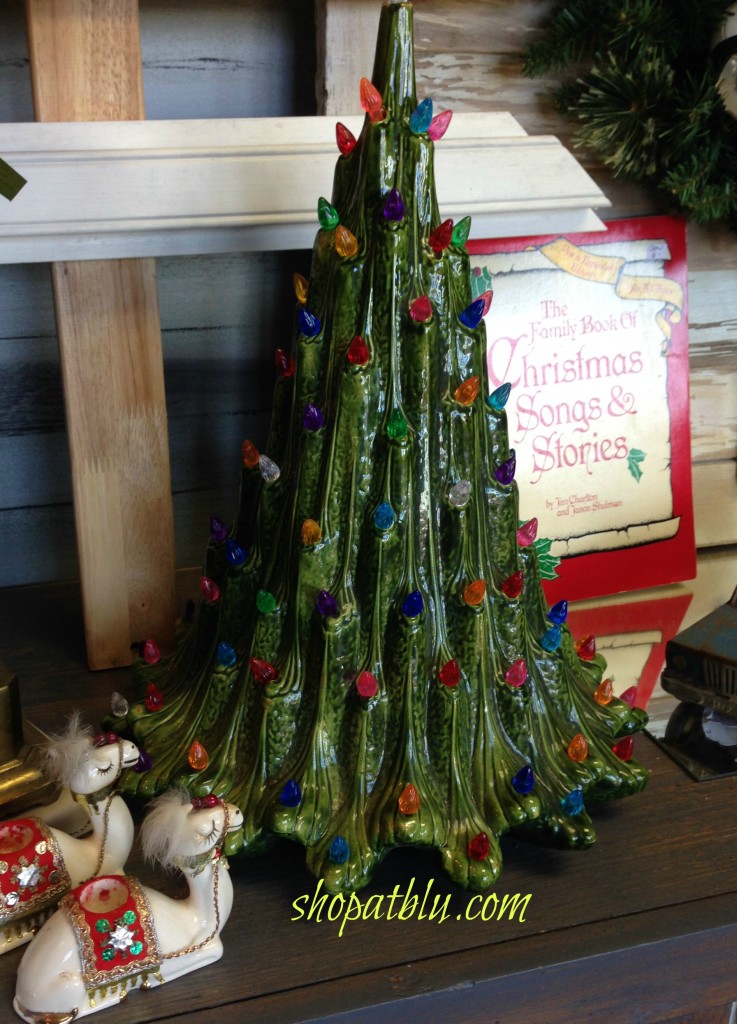 One of the best perks of owning your own antique and consignment store is that folks just drive up with the coolest items for you to buy or consign.  I bought these vintage camel candlesticks from a sweet customer just the other day!  They are a nice addition to any Christmas decor.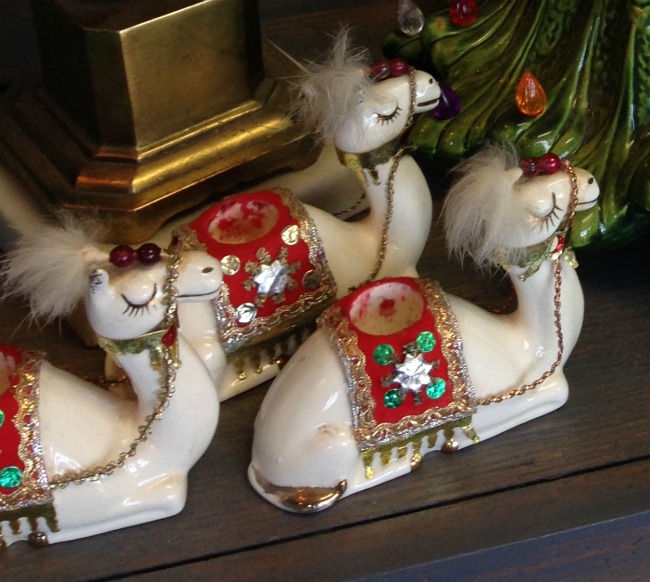 And how about these antique paper bell ornaments?  The lady who sold them to me said they belonged to her grandmother and dated back to the 1930's!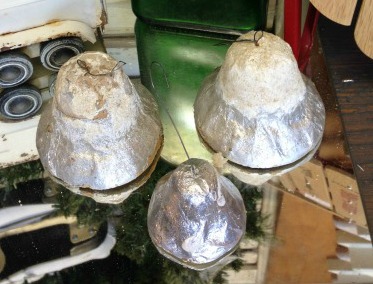 Another Blue Building dealer had this beautiful quilt for sale.  I thought the colors screamed C H R I S T M A S!!!!  Am I right?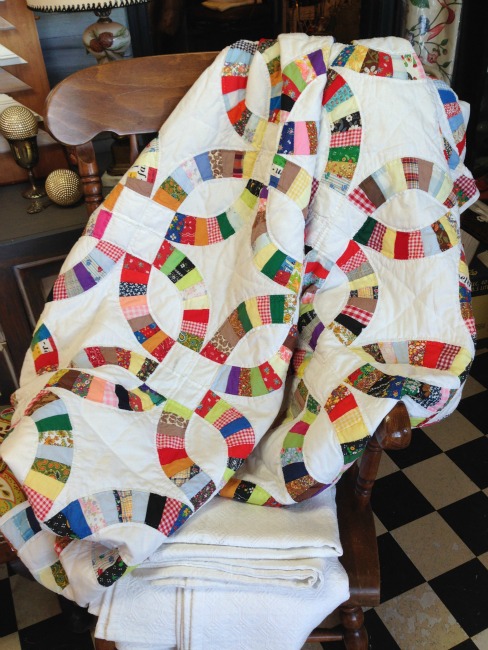 This last highlight will be familiar to you like the rustic console if you saw our Thanksgiving Decor,  I was dismantling the Fall decor when Pop said, "Leave the eagle.  I like that eagle.  It's beautiful and it needs to stay right where it is."  I stopped a moment and realized that Pop was indeed right!  With all of the turmoil and tragedy in the news these past two weeks,  this symbol of peace and freedom really does need to stay where people can see it and reflect on it's meaning.  So, the eagle stayed and we simply added some holiday charm and a wonderful message.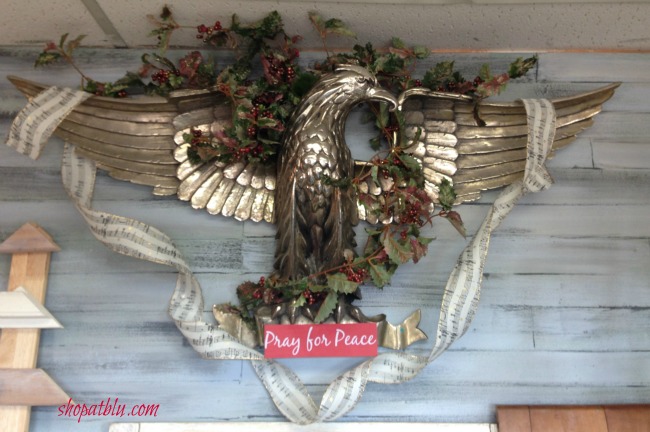 All of the items used in this display are for sale at The Blue Building!  We have a ton of fun staging everyday…lots of little bits of everything!  You just never know what we are going to throw together!  With 8,000 square feet of furniture and home decor we have alot of options!
I am so happy to be sharing this post on the Hometalk.com and CountryLiving.com Home for Christmas blog hop!
Ya'll make it a point to check out all of the wonderful projects being shared by these phenomenal bloggers!  There is something for everyone!