Have you ever come across the perfect piece of furniture whose top has been completely destroyed? Or have you found a great base with an odd shape that would be perfect with a killer table top if only you could custom make a killer table top? Today I am trying a new product by EnviroTex called EnviroTex Lite Pour-On High Gloss Finish. This product can help you create that fabulous high gloss resin finish top! I learned how to apply a high gloss resin finish and if I can do it, so can you!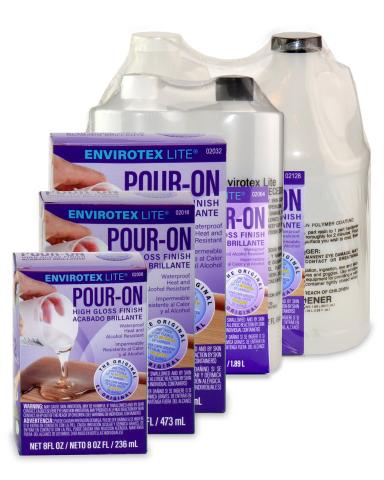 ETI has been in business since 1969 and has set the standard for high gloss resin surfaces. You can check out their website and products here. When I heard about their products, my mind immediately went to faux marble! I absolutely love marble but it is so expensive. I checked out their projects on their website and indeed there were faux marble tables. I grabbed a project piece from my project pile at my store, The Blue Building Antiques and Consignment, and got started.
ETI provided this product free in exchange for my participation in this month's Fab Furniture Flipping Contest. This post does contain affiliate links.
I selected a basic coffee table for my project. We get alot of these types of coffee and side tables in my store. We often paint them for a more contemporary look as cherry and mahogany are not so popular right now. Here is the before photo: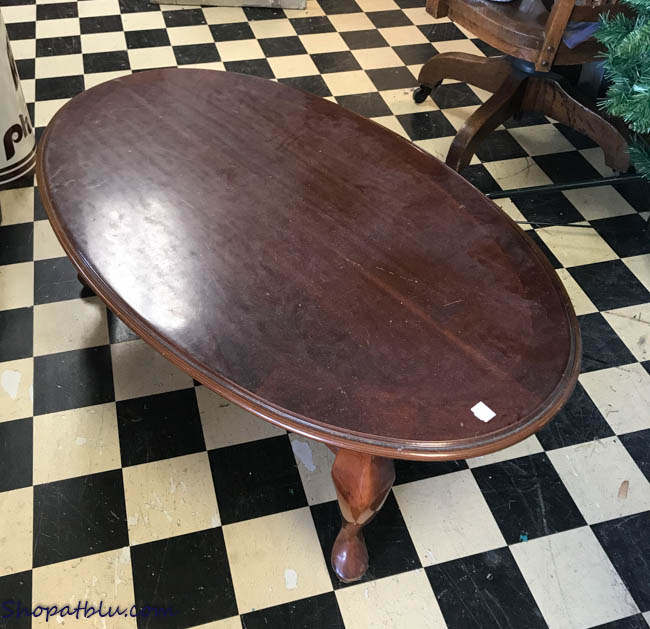 My plan was to use the resin to create a faux white marble top. The product came with great instructions. The company website also has videos and instructions for many projects, including faux marble tops. Since I wanted to tint my resin, I called the 800 number to inquire as to they types and quantity of paints or pigments to use for tinting. The tech, Michelle, was so very helpful and suggested against using white as my base color as the resin, like all resins, will yellow over time. So I decided against white and settled on a gray.
I painted the coffee table with gray paint and allowed it to dry.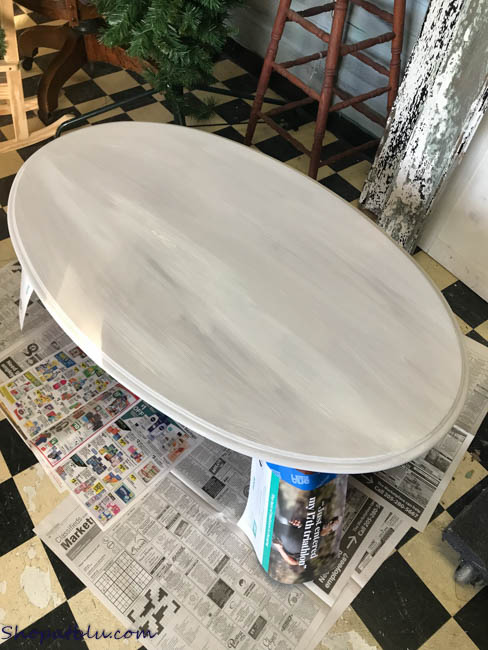 I followed the instructions for mixing the resin. I used 3 batches and moved quickly to complete the application within the appropriate drying time. Once the gray was completely applied, I added some white. I am happy with result for my first attempt at marbling!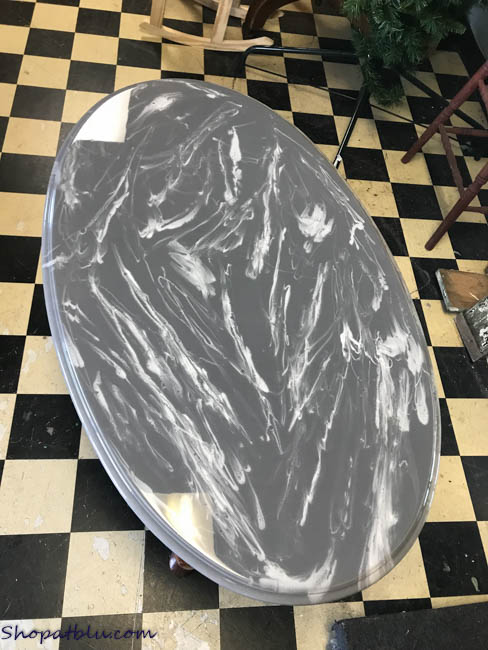 I can't wait to try some other furniture tops with this product. I would love to do a kitchen or bathroom vanity counter! So many possibilities!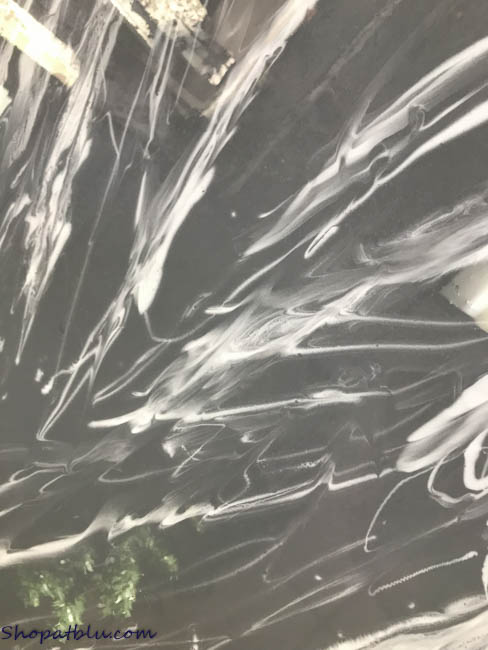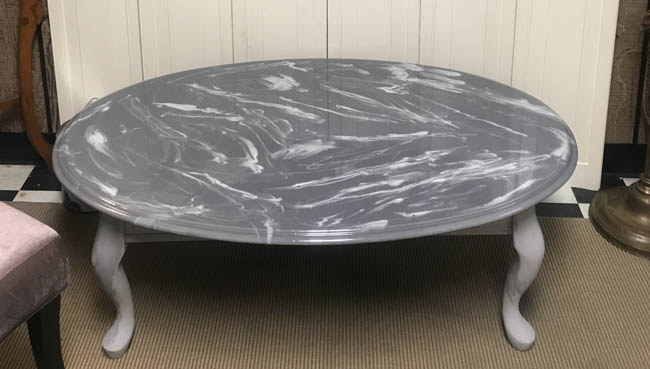 This project was sponsored by Envirotex as part of The Fab Furniture Flippin' Contest, a monthly contest where bloggers revamp a furniture piece using products provided by a sponsor. Our theme for this month was "Showstopping TOPS"!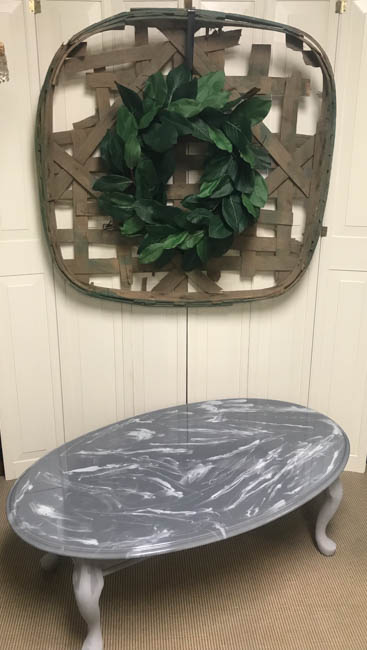 If you are a blogger who tinkers in furniture upcycling and are interested in participating in future contests, inquire by sending an email to info@eveyscreations.com.
We are lucky to have the following wonderful hosts: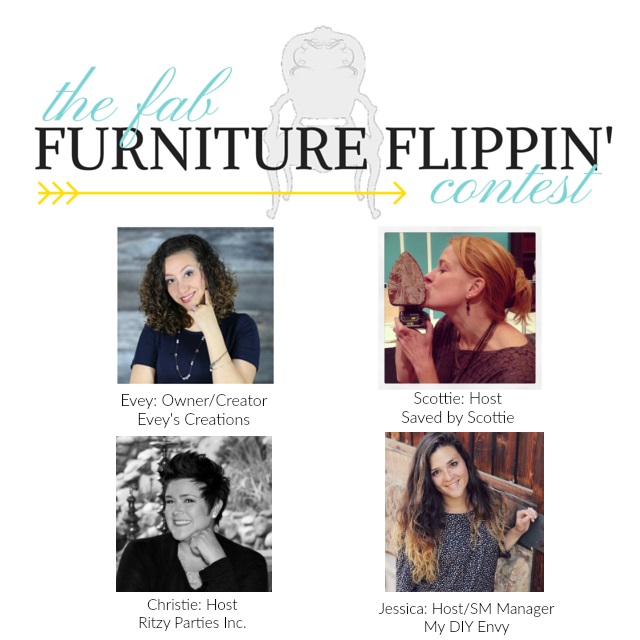 And this month we have a guest host as well. Check out Sheri of Hazel and Gold Designs. She also used Envirotex Lite on a fabulous project.