Do You Suffer from FOMO?
Do y'all have FOMO? I do! My blogger buddies have been planning a little blog hop in honor of the Super Bowl. They are featuring appetizers on their blogs. I am not really a food blogger but being a mom with a ton of kids…I love appetizers. So, my FOMO kicked in! I have been crazy busy this week with a furniture contest, cleaning up my store The Blue Building Antiques and Consignment, and rooting for my youngest daughter's (IV) high school bowling team. Last week they placed in the top 4 in the state finishing runner up in the Alabama State High School Bowling Southern Regional Championship. Tomorrow they bowl for the State Title here in our little hometown of Pelham AL. Whoohoo! Go Panthers!
Even with this excitement, my Fear Of Missing Out kicked in. So tonight I am throwing together something to share in the appetizer blog hop!
Two days ago Pop and I stopped at Publix on our way home from The Blue Building. What did I see? These beauties: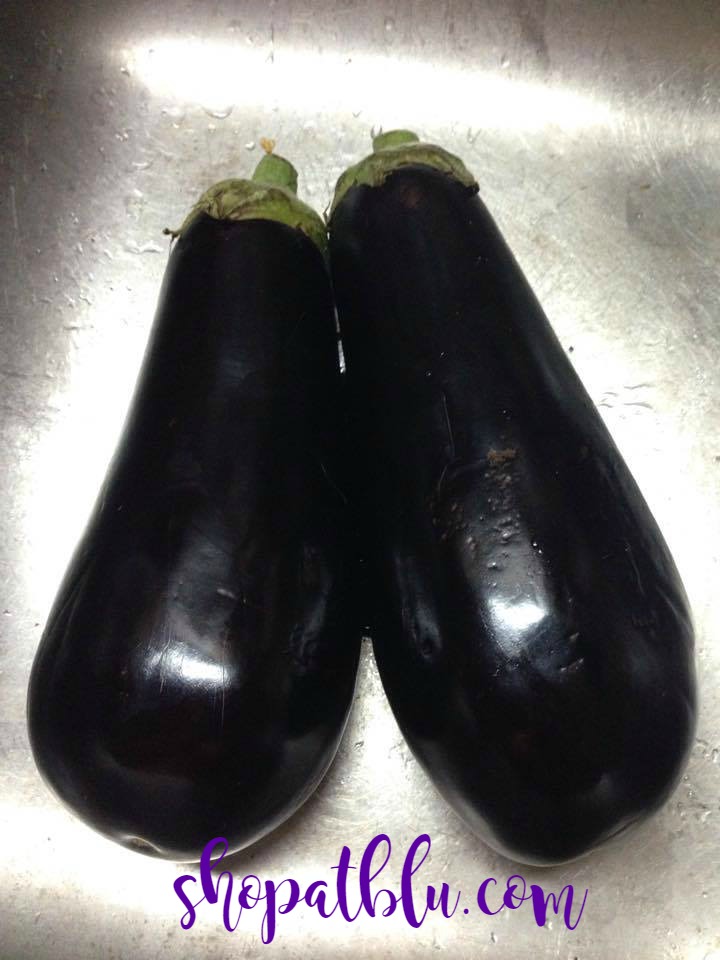 I just can't resist a beautiful eggplant! Bahaha…not your everyday phrase! You can quote me on that!
So tonight…I fried them up and realized that these would make great appetizers!
Ingredients
one fresh eggplant
2 c. vegetable oil
3 c. bread crumbs, plain or Italian, fresh or store bought
Recipe
Pour about 2 cups of vegetable oil into a frying pan and start heating it on medium heat.
While your oil is heating, peel your eggplant with a vegetable peeler.
Cut off the ends of the eggplant and discard the ends. Slice the eggplant into about 1/8 to 1/4 inch slices depending on your preference.
Beat 4 eggs in a round bowl. Set aside.
Pour about 2 cups of Italian (or plain, Italian has spices) breadcrumbs into another bowl.
Dip each eggplant slice into the breadcrumbs, flipping to ensure both sides are breaded.
Dip the same slice into the eggs and then repeat the dredging in the breadcrumbs.
Place the breaded eggplant slice into the hot oil and fry for just 1-2 minutes.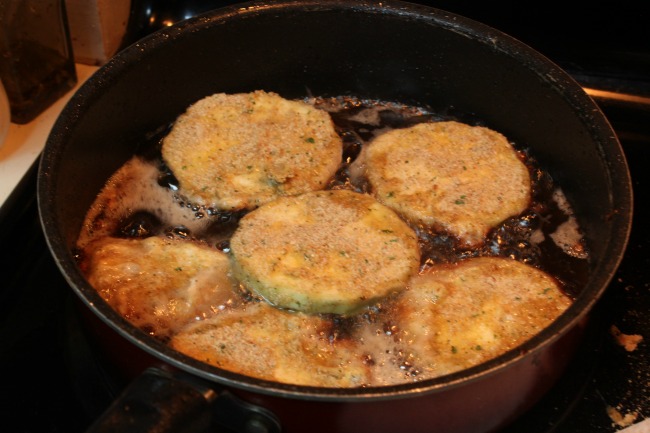 Flip the eggplant over and fry the other side for about 1-2 minutes or until the breading is golden brown.
Repeat for all of the remaining slices of eggplant.
Serve plain or with tomato sauce or ranch dressing.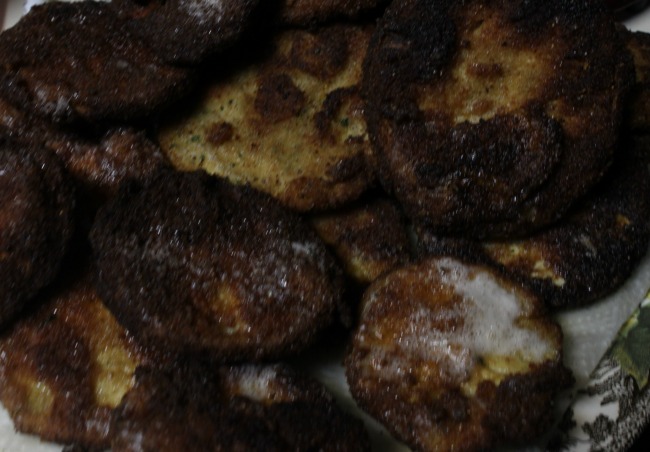 I just love the crunch of the breading coupled with taste of the soft eggplant! I like to think this counts as a vegetable serving…even with the not so healthy frying. But, either way you see it, this little snack says Yum!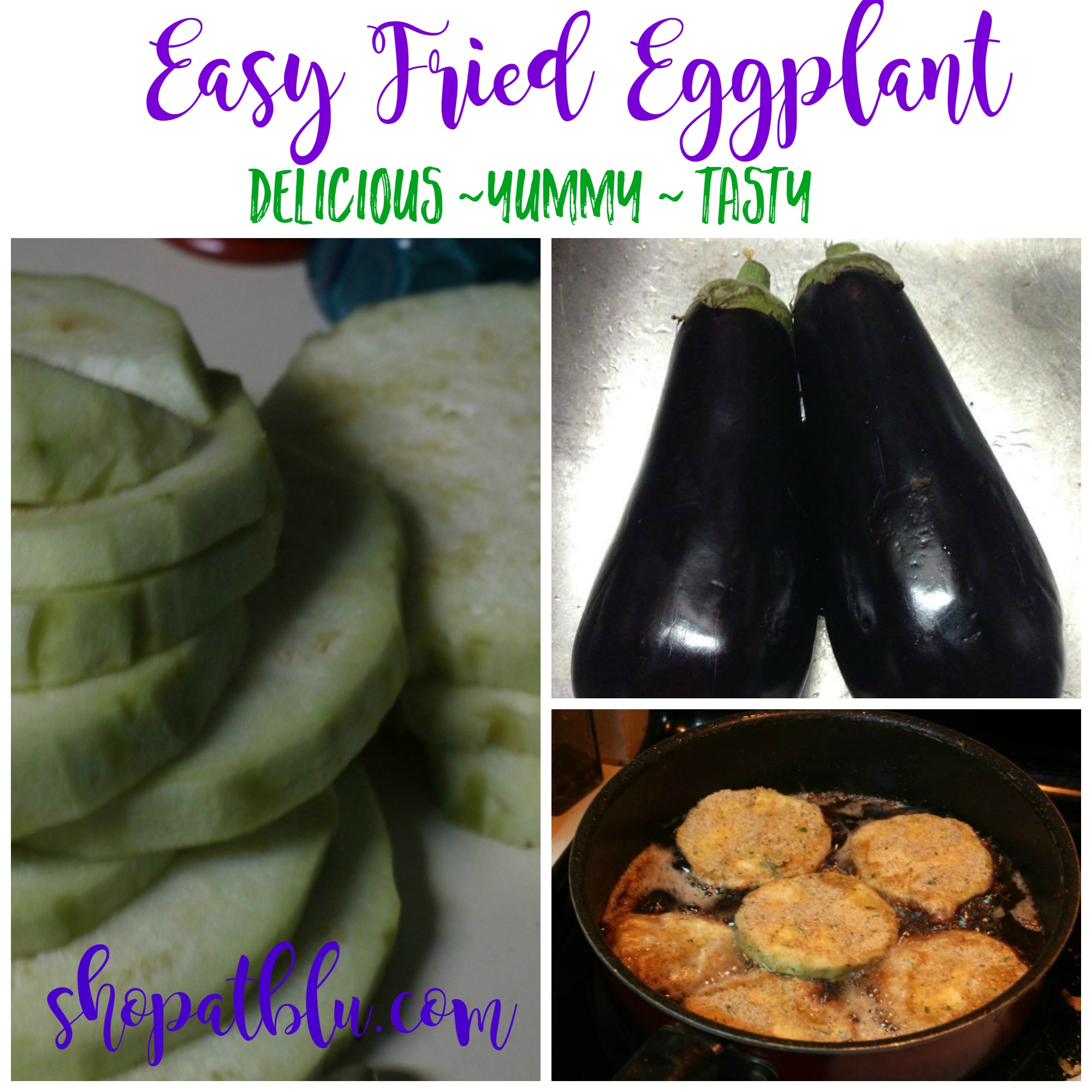 Check out all of the amazing appetizers in our Appetizers and Snacks to Feed a Crowd blog hop! Hopefully you can find a new snack to try!