Well, we did it! We committed to a second show, Vintage Market Days of Mobile. And WE SURVIVED! What a great event!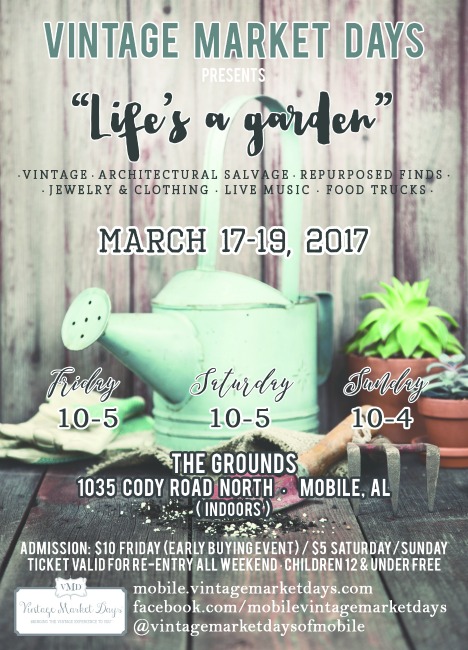 First, a little bit about Vintage Market Days. This is franchised market that it popping up all over the country! If you love vintage markets, you need to check out the website Vintage Market Days for a venue near you. We are in central Alabama. There are now THREE VMD events near us. The next show is in Decatur AL. "Southern Picnic" is April 21-23 at Celebration Arena. Mobile will host another August. And Birmingham's first venue is November.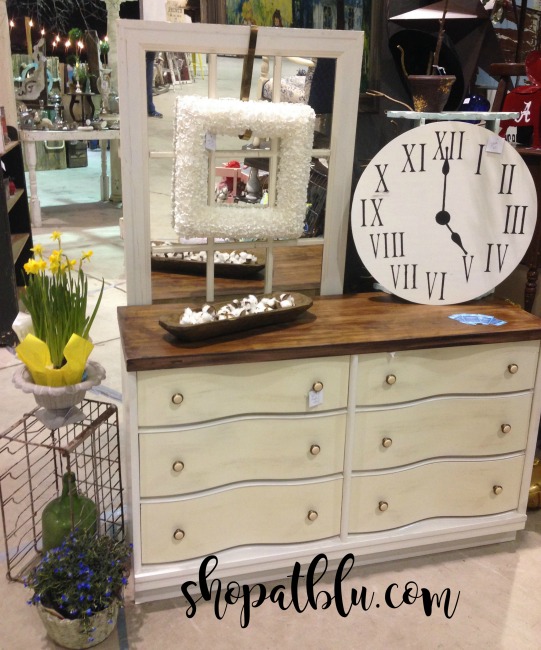 Admission is generally $10 and covers all three days! Birmingham has not had many vintage markets so I was simply elated to browse through all of the glorious vendors. Vendors must submit an application with photos, as "Vintage Market Days® is an upscale vintage-inspired indoor/outdoor market. featuring original art, antiques, clothing, jewelry, handmade treasures, home décor, outdoor furnishings, consumable yummies, seasonal plantings and a little more. Vintage Market Days® events are so much more than a flea market. Each Vintage Market Days® event is a unique opportunity for vendors to display their talents and passions in creative venues." (quote from website).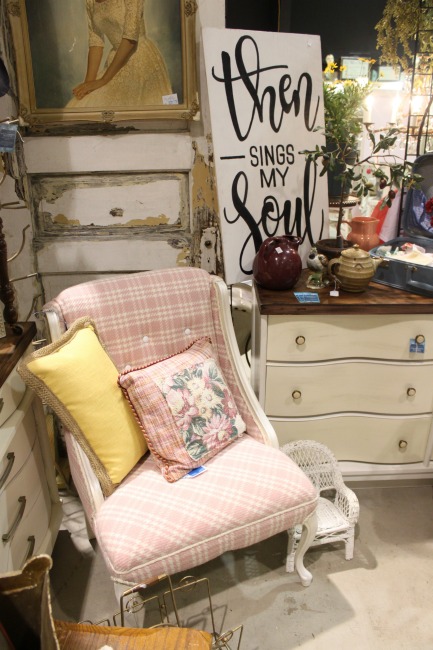 Here are some photos of The Blue Building Antiques and Consignment Vintage Market Days® space from Vintage Market Days® of Mobile: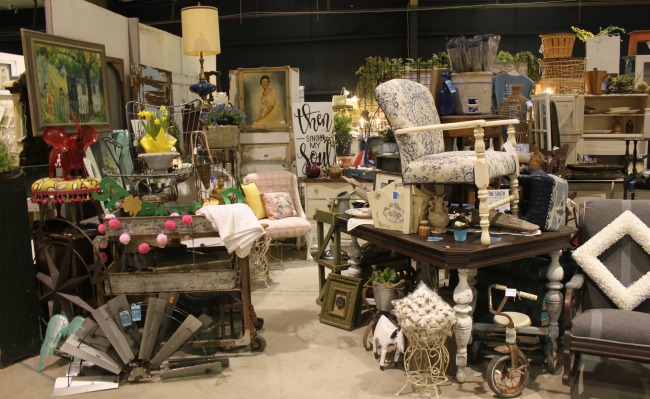 If you've been to my store, you know I like to cram alot of happiness into one space. The more to see, the more to buy! Right?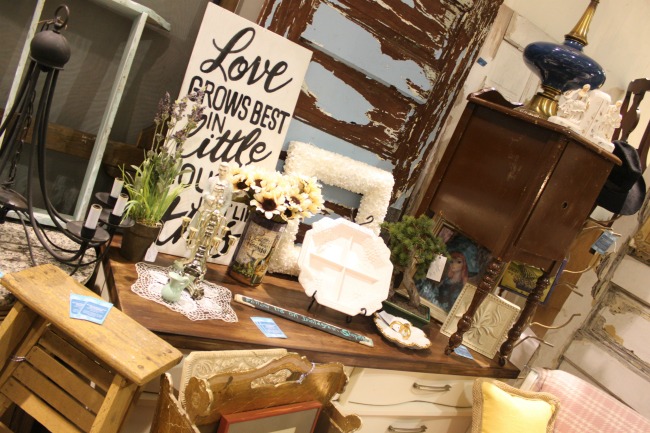 My friend Dennis, formerly from The Yellow Building (I miss that store) hand paints incredible signs. Call me to order ANY sign. Dennis is also a super talented portrait artist! How bout that chippy door? I did a post on how to get this chippy look!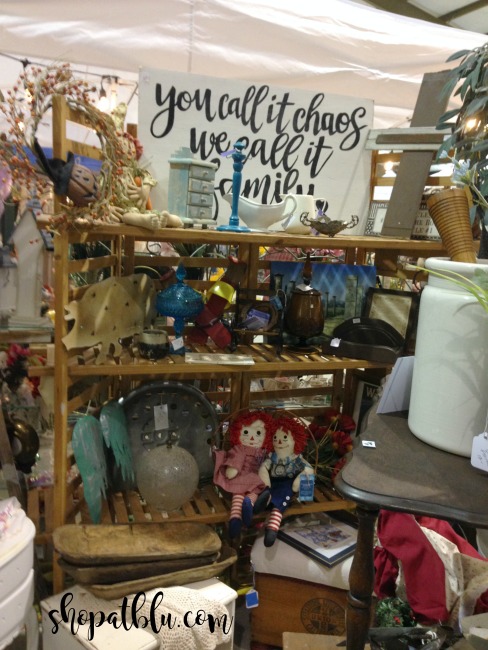 We had a nice mix of vintage, antique, and collectibles as well as our usual JUST FUN STUFF!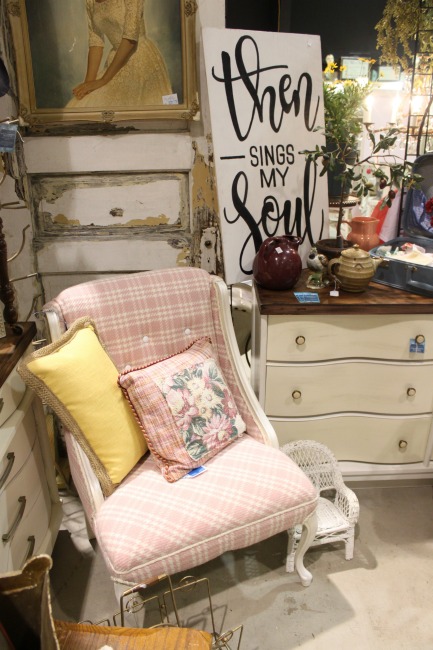 My friend Nancy is the Upholstery Queen! Her chairs were a big hit!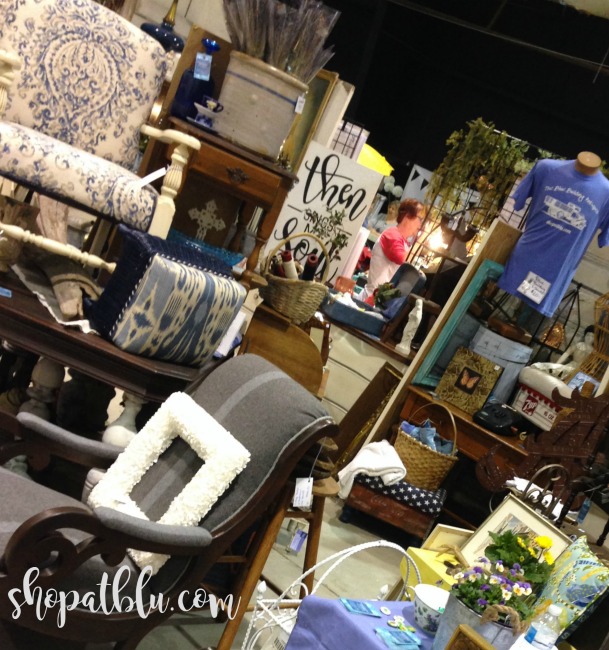 One lucky lady went home with the beautiful antique rocker that was reupholstered with a 1942 Australian army blanket. Simply lovely!
This show was a great success for us! And so many folks promised to visit us on their next trip to Birmingham!
Speaking of Birmingham, we are planning on doing the VMD of Birmingham this winter…it's the weekend BEFORE the Iron Bowl (if you aren't from Alabama where all scheduling of life activities revolves around college football, it's the weekend before Thanksgiving)! Stay tuned as I will be posting some of the goodies we will be bringing to this market.